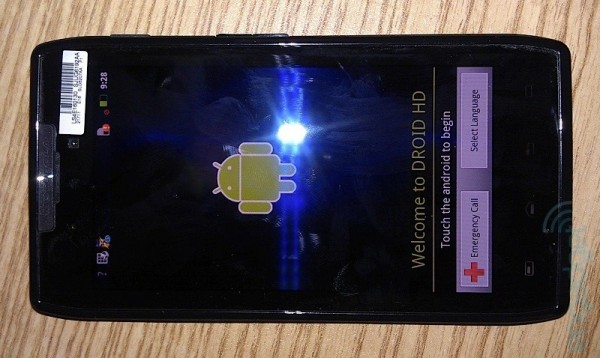 And, whoa.  You be looking at Motorola's next big device, called the DROID HD.  We've seen this name a number of times before, but up until this morning, had not had even a glimpse at what it may look like.  Well folks, here you go.  Prepare to be blown away by what could be one of the thinnest devices on the planet – one that makes the Bionic look like a thick tank.
The device is said to have a 4.5″ screen (more than likely HD, hence the name), Android 2.3 (stock?), 8MP HD camera, front camera, and HDMI out.  There is also a compartment on the side for loading a microSD and SIM card (suggesting non-removable battery), something that would lead us to believe this phone is 4G LTE.  We could probably go ahead and assume it'll run some next-gen dual-core processor, but those specs were not reveiled.  Lock switch on the side; same size as the Bionic with a potentially larger screen.
Update:  As one dedicated reader (zepfloyd) pointed out, this indeed sounds exactly like the Motorola Dinara we reported on back in July.  Our sources said that the device would have an HD screen, lock switch on the side, would be the same size as the Bionic but with a bigger screen, a non-removable battery, and would be much, much thinner.  Yep, I'd say this is it.
Update 2:  Just heard from our sources that this is not the Dinara.  Hoping to have more details soon.
Most importantly though, this phone is unbelievable thin.  Let's jump through a series of photos that compare it to the Bionic, so you can really get a feel for what the DROID HD may be.  
(DROID HD on the right)
Still can't tell how thin it is next to the Bionic?  Check this one out:
And how about another by itself – brace yourselves:
Try and tell me you aren't blown away by that?  We are talking Galaxy S II thin here, unless of course this guy has the biggest hands on the planet.  Whatever Motorola has planned for the future though, we are most definitely looking to be a part of it. There is also a shot of that side lock switch.
Here is the side compartment with SIM and SD slot:
And finally, one more comparison to the Bionic:
There is no telling when this device could see the light of day, especially with the Bionic not even in stores yet.  We are thinking there is a chance for the holiday season, since Moto CEO Sanjay Jha told us last month that they would have another LTE phone by the end of the year.  They could easily have meant on AT&T's network though, but we're hoping for Big Red.
I'm officially blown away.  Let us know how you are feeling.
Gallery:
*
Note
– In the pack of pics that were sent to
Engadget
, there was a look at a device with the back off, showing the battery.  That picture was of the Bionic's battery, not this DROID HD.
Via:  Engadget
Cheers Bjorn and everyone else!