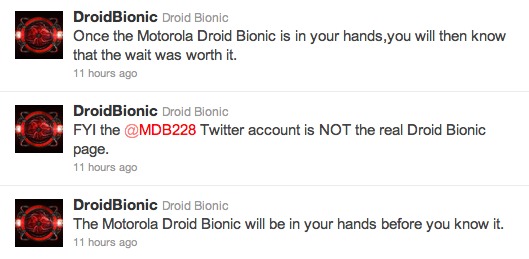 Following the drama of @MDB228 and @DroidBionic on Twitter over the last weeks has been entertaining to say the least.  As of today though, it was taken to a whole new level when one called the other out as being a fake.  Hah, Droid Bionic Twitter drama at its best…OK, moving on to what's important.
In the latest tweet of what we're assuming is the "official" DB account, we are told that the wait will be well worth it even though the device was supposed to have been out back in May.  After seeing semi-official specs earlier this week, we (and possibly this Twitter account) get the feeling that many of you are disappointed, and are instead looking past the Bionic and onto phones like the HTC Vigor or Samsung Stratosphere.
I will just say that we really won't know the verdict on this phone until we all have it in hand.  Some of you were expecting more, but truthfully, even if those leaked specs come true, this is still one of the most powerful devices on the planet.  You can't argue that it's "old tech" or that it's not "top tier" because it is.  There are no dual-core phones with 4G LTE currently; the Bionic is aiming to be the first.  Could the HTC Vigor blow our minds a month after its release?  Of course.  But we could be saying that for every device for the next 10 years.  Tech is changing so quickly that almost every device will feel old in just a couple of months, sort of like the computer industry was back in the 90s.
So what do you guys think, will it be worth the wait or have you completely moved on?
Cheers @legoturtle92!