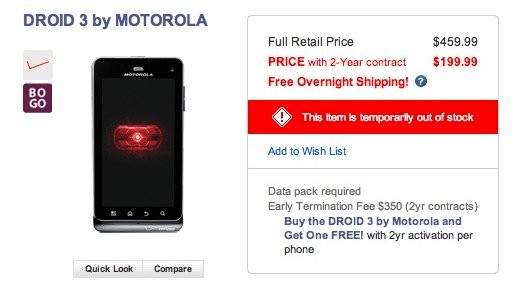 It looks like that BOGO offer for the DROID3 is doing the trick, as the device already appears to be sold out online in Verizon's shop.  Even without a 4G LTE radio, the device most definitely has a set of future-proof specs that are helping it to apparently sell like hot cakes.  As the third edition of one of the most successful Android devices of all time, this is a good sign that Motorola and Verizon may have finally released a winner in 2011.
We reviewed the device and have had mostly positive things to say about it.  While the screen and custom software on it may not impress die-hard enthusiasts, it's easy to admit that the DROID3 is Big Red's best phone at the moment.  To see more of our thoughts, be sure to read our review of the DROID3.
______________________
Some of our best videos.