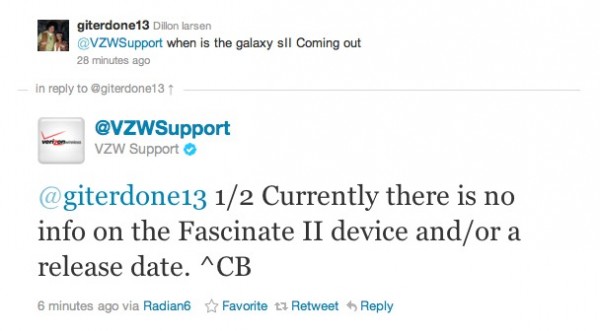 Verizon's support account is on a roll today.  First we had confirmation (that has sort of been retracted) that the Galaxy S II will be a 4G LTE device and may now have the name for it as well.  How does Fascinate II, sound?  Rumors of it being called the Function have been floating around for a couple of months thanks to some random accessory site, but Fascinate II just makes so much more sense.  The DROID brand all follows some sort of numerical naming convention, so why not the Galaxy S line?
And I'm pointing this out for the simple fact that the initial question was, "When is the Galaxy SII coming out?" with no mention of Fascinate.  The VZW support rep is the one that included the name.
Thoughts?
Cheers Dave!
______________________
Some of our best videos.