Official Verizon support just dropped the tweet you are seeing above which states that their version of the Samsung Galaxy S II will have 4G LTE.  We have all been speculating as to whether or not the device would launch on Big Red with 4G since it certainly seems like it will on every other carrier.  The idea of it launching so close to the Bionic though, had us doubting.  This would seemingly change those thoughts and is huge news, especially if we are to see the device in August.  Unless of course that in an hour they retract it to say that they meant "the Galaxy Tab 10.1 will have 4G."  But for now though, we're jumping up and down with joy.  
Update:  And as expected, the damage control has begun, although no one is necessarily denying that the phone exists or that it will or will not have 4G.  You'll see in both responses that different support reps are scrambling…

Not exactly sure what "not in our website" is supposed to mean, but again, isn't really a denial.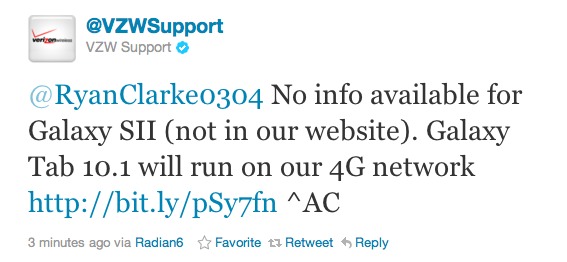 If this statement does indeed hold up, feel free to tell us in the comments what you plan on making your next device.
Cheers @sparty569!