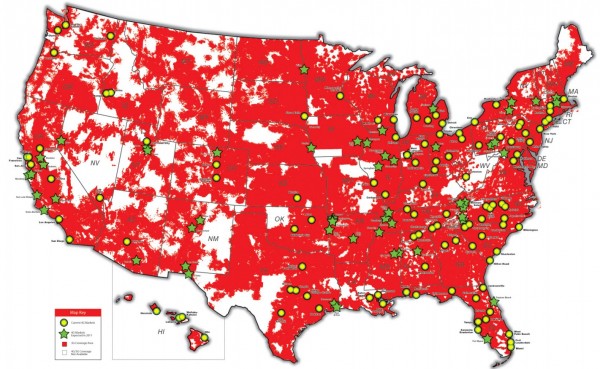 Fresh off of the July 21 first launch of 28 new 4G LTE cities, Verizon is already announcing a new set that will go live on August 18.  We haven't received an official list yet, but from a variety of sources, we've started compiling one below.  We're hearing that the total number of cities will be 116 after the 18th, making this run of LTE rollout from Verizon pretty impressive.  
*We'll do our best to add to the list as we see cities pop up.
New Cities:
Council Bluffs, IA
Ithaca, NY
Syracuse, NY
Albany, NY
Fort Collins, CO
Provo/Orem, UT
Salinas and Monterey, CA
Bakersfield, CA
Omaha, NE
Altoona, PA
Johnstown, PA
Tucson, AZ
Frederick, MD
Expanding:
Cincinnati, OH
Columbus, OH
Rockland County, NY (Nyack, West Nyack, Orangeburg, Pearl River, & Spring Valley)
Metrowest, MA
Cheers Zack and Ben!