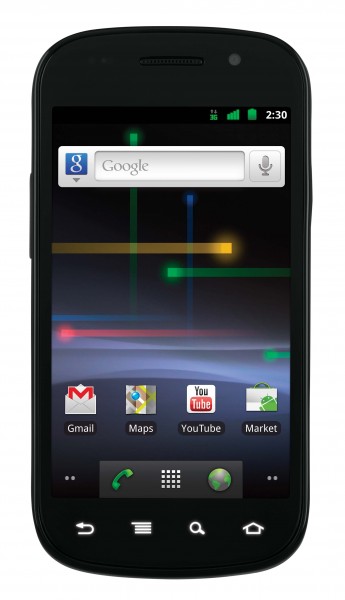 Yeah, that just happened.  The Samsung Nexus S has been announced for AT&T, leaving Verizon as the only major carrier in the country without it.  You can pre-order it today through BestBuy.com/mobile for just $99 on new two-year contract or pick it up in stores on July 24.  It's not the HSPA+ edition you were hoping for either – it's essentially just like T-Mobile's version which runs on regular ol' 3G.
Back to the point made in the title though…hello, Verizon?  Let's make something happen here, guys.  At least with the Nexus One, we could say, "Well, Sprint doesn't have one either!"  That argument no longer works though.  Now, we all adore and love the "DROID" franchise to death, but can a brother get a little stock Android lovin' from time-to-time?
Press release after the jump.  
SAMSUNG MOBILE ANNOUNCES AVAILABILTY OF NEXUS S ON AT&T

Nexus S hits Best Buy and Best Buy Mobile specialty stores, as well as online on July 24; pre-sale begins July 21

DALLAS – July 21, 2011 – Samsung Telecommunications America (Samsung Mobile), the No. 1 mobile phone provider in the U.S.1, today announced the upcoming availability of Nexus™ S from Google™ through Best Buy, Best Buy Mobile specialty stores and www.BestBuy.com/Mobile.

Optimized for AT&T's network, and powered by Android™ 2.3, Nexus S offers an experience with uniquely powerful technology. Nexus S is designed with Samsung's special Super AMOLED™ touch screen technology providing a premium viewing experience.  Nexus S runs off of a 1 GHz Samsung application processor, producing rich 3D graphics, as well as faster download and upload times. With Nexus S AT&T customers will now have access to the latest and greatest Google applications and Android updates first.

Nexus S will be available at Best Buy in stores on July 24 for $99.99 with a new, two-year activation. In addition, the phone is available for pre-sale in Best Buy, Best Buy Mobile specialty stores and online at www.BestBuy.com/Mobile beginning July 21.

Key Features:

·         Pure Google experience
·         4" Super AMOLED™ Contour Display
·         3G Network Speed and 1GHz Processor
·         Latest Google Mobile Apps
·         Full HTML Browser with Pinch to Zoom
·         Android 2.3 Gingerbread
·         Multitasking
·         Front-facing VGA camera
·         Rear-facing 5.0 Megapixel Camera and Camcorder
·         Voice-enabled Keyboard
·         Text-to-Speech
·         Wi-Fi
·         Bluetooth 2.1
·         3D Motion for Gaming
·         Business and Personal Email, Contacts, and Calendar Sync
·         Tethering
·         NFC Support
·         Internet Calling
·         Google Voice
·         Access to more than 250,000 apps in Android Market™

Specifications:

•        Frequency: GSM850/900/1800/1900 UMTS 850/1900/2100

•        Dimensions: 123.9 x 63 x 10.88(mm)

•        Weight: 129 grams

•        Display: Super AMOLED™, 480 x 800 pixels

•        Battery: 1500mAh Li-ion standard battery

•        Talk Time: Up to 6.5 hours

•        Standby Time: Up to 450 hours

1Number one mobile phone provider in the United States claim for Samsung Mobile based upon reported shipment data, according to Strategy Analytics, Q1 2011 U.S. Market Share Handset Shipments Reports.

Battery power consumption depends on factors such as network configuration, signal strength, operating temperature, features selected, vibrate mode, backlight settings, browser use, frequency of calls and voice, data and other application usage patterns.

Nexus S, Google, Google Voice, Android and Android Market are trademarks of Google, Inc.

About Samsung Telecommunications America

Samsung Telecommunications America, LLC, a Dallas-based subsidiary of Samsung Electronics Co., Ltd., researches, develops and markets wireless handsets and telecommunications products throughout North America. For more information, please visit www.samsungwireless.com.

About Samsung Electronics Co., Ltd.

Samsung Electronics Co., Ltd. is a global leader in semiconductor, telecommunication, digital media and digital convergence technologies with 2009 consolidated sales of US$116.8 billion. Employing approximately 188,000 people in 185 offices across 65 countries, the company consists of eight independently operated business units: Visual Display, Mobile Communications, Telecommunication Systems, Digital Appliances, IT Solutions, Digital Imaging, Semiconductor and LCD. Recognized as one of the fastest growing global brands, Samsung Electronics is a leading producer of digital TVs, memory chips, mobile phones and TFT-LCDs. For more information, please visit www.samsung.com.