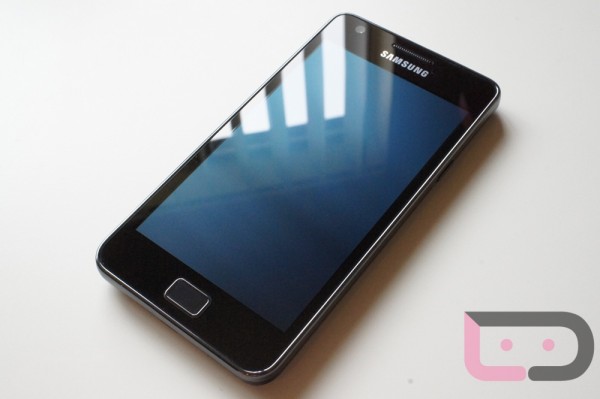 The Samsung Galaxy S II has easily been one of the most anticipated and talked about Android devices of all time.  When it was first introduced back at MWC earlier this year, we all started counting the days to its U.S. arrival after seeing the specs that Sammie was claiming to have included.  The problem is, that we are still waiting.  There is no telling why it has been left off of our shores, but that's the unfortunate story.
So since all of the U.S. carriers and Samsung seem to be dragging their little feet on this one, I decided to grab the unlocked version, which works on AT&T's HSPA+, to see if this device could really live up to all of the hype.  I also wanted to give you all a preview ahead of its U.S. release, just in case you were trying to decide whether or not you should pick up the DROID3 now, wait for this, or skip them all and head straight for the DROID Bionic.
Let's dive in and see if it could live up to our high standards – something very few devices have been able to do over the last couple of months.  
The Good:
Hardware:  I'm not sure where to begin on this because it's so damn good.  The device I'm using has a 1.2GHz dual-core processor, an 8MP camera that can shoot 1080p video, a front 2MP camera for video chats, 4.3″ Super AMOLED Plus screen, is thinner that almost any phone on the planet, weighs little to nothing, and has a 1650mAh battery that lasts forever.  The only thing missing here is an HDMI port, but Samsung has an adapter that can take care of that.  This phone is 100% today's tech and you can just feel it instantly when you use it for the first time.
Screen:  The 4.3″ Super AMOLED Plus screen on the Galaxy S II is stunning.  As readers of this site, you already know that we're big fans of these displays after we first held the DROID Charge, but this phone has only strengthened those feelings.  The resolution may be lower than many of the newer phones who are sporting "qHD" displays, but when it looks this vibrant and beautiful, resolution means nothing.
Battery life:  Let's just say that I've not once been in a situation with this phone where I was worried about battery life.  And trust me when I say that I've been using this phone constantly since picking it up on both 3G and WiFi.  It will easily get you through an entire day without having to plug it in.  For example today, my SGS2 was unplugged around 7:15AM and replugged at 4:30PM and still had 68% left.  Remarkable, right?
Camera:  By no means am I a professional photographer, but I do like to think that I can tell if a camera takes decent photos or not.  The SGS2 is more than impressive to me with its 8MP shooter.  I've attached a variety of indoor and outdoor shots with different lighting below which I think you'll also be impressed by.
(Click for full size versions.)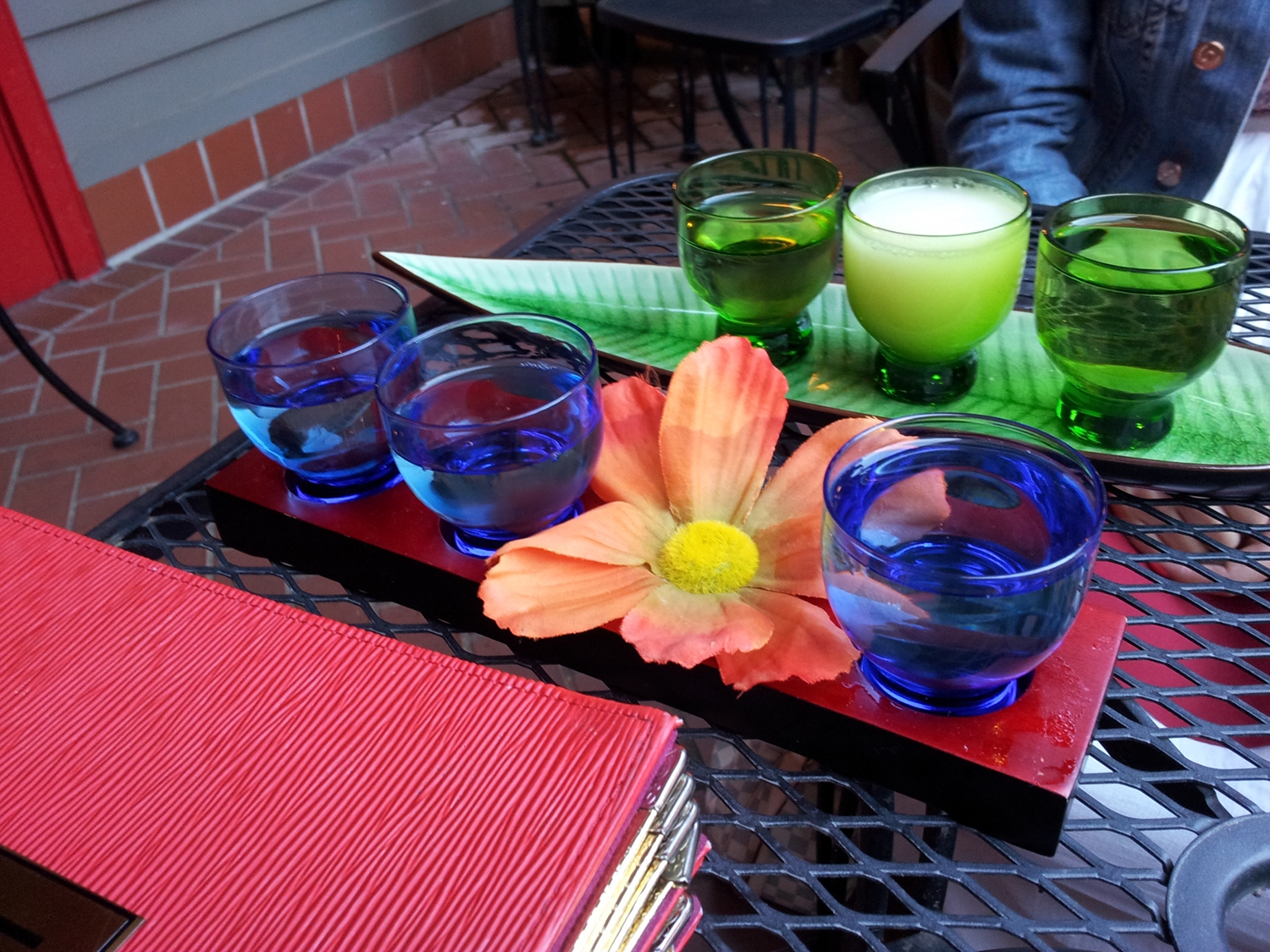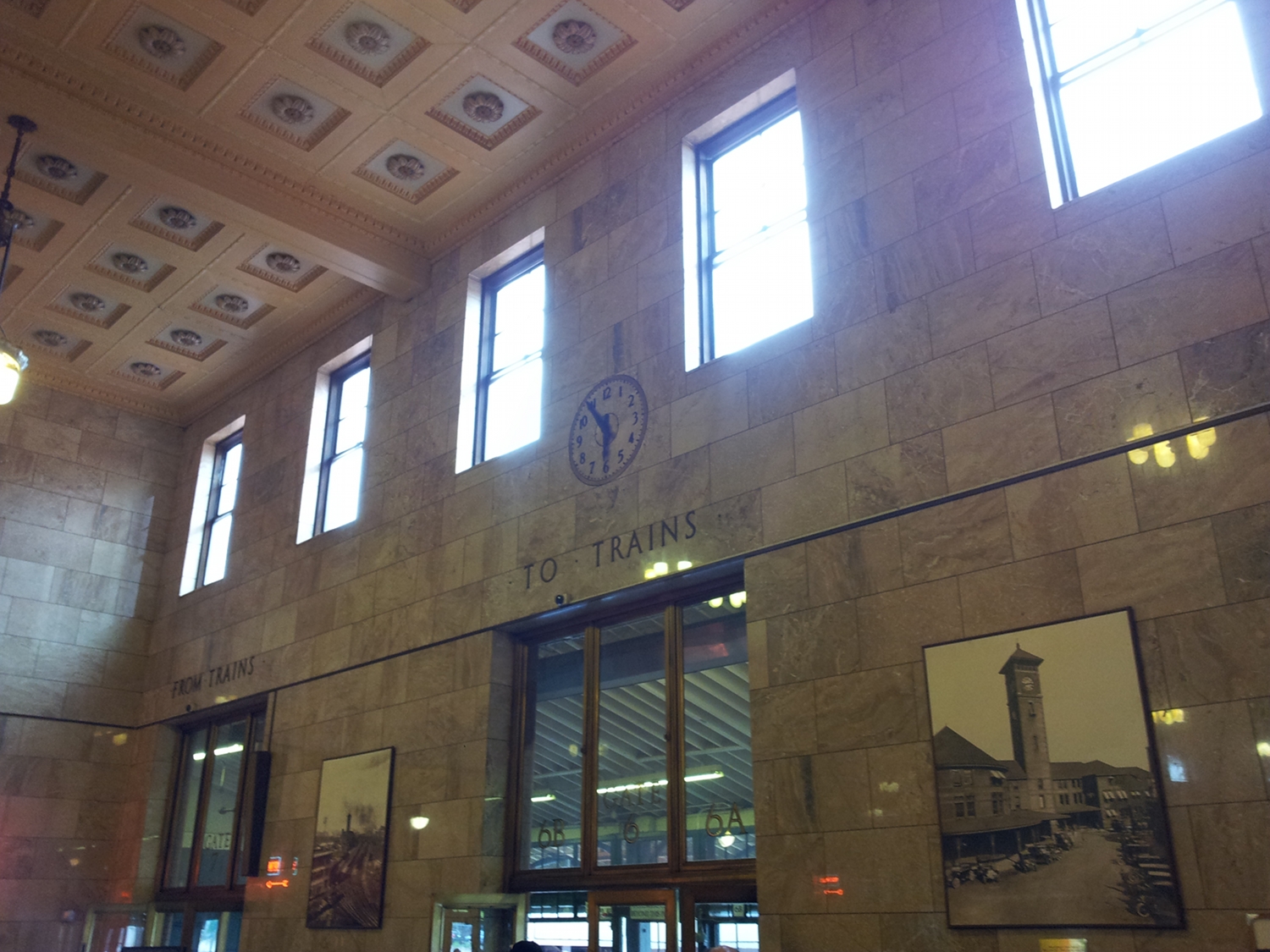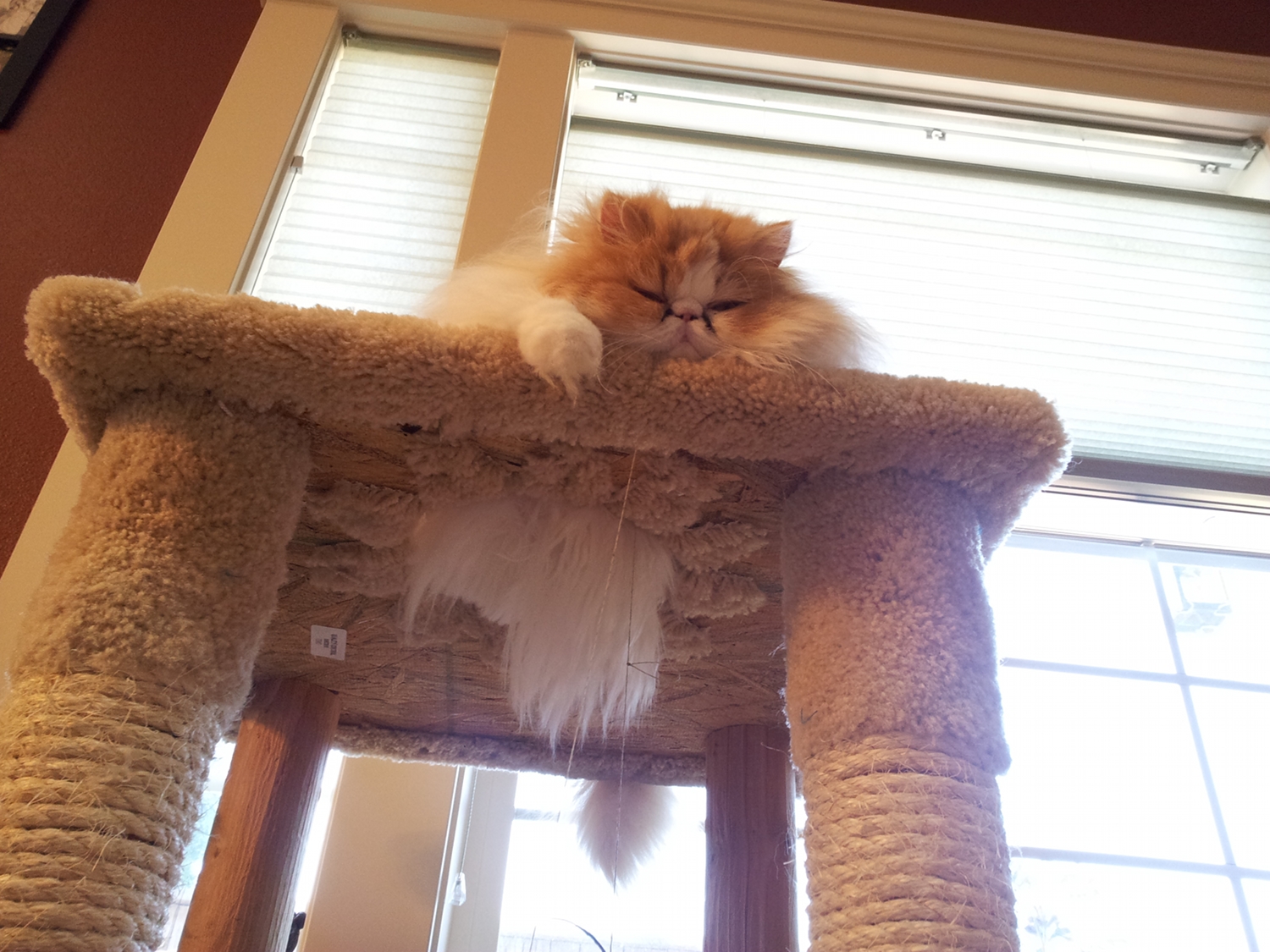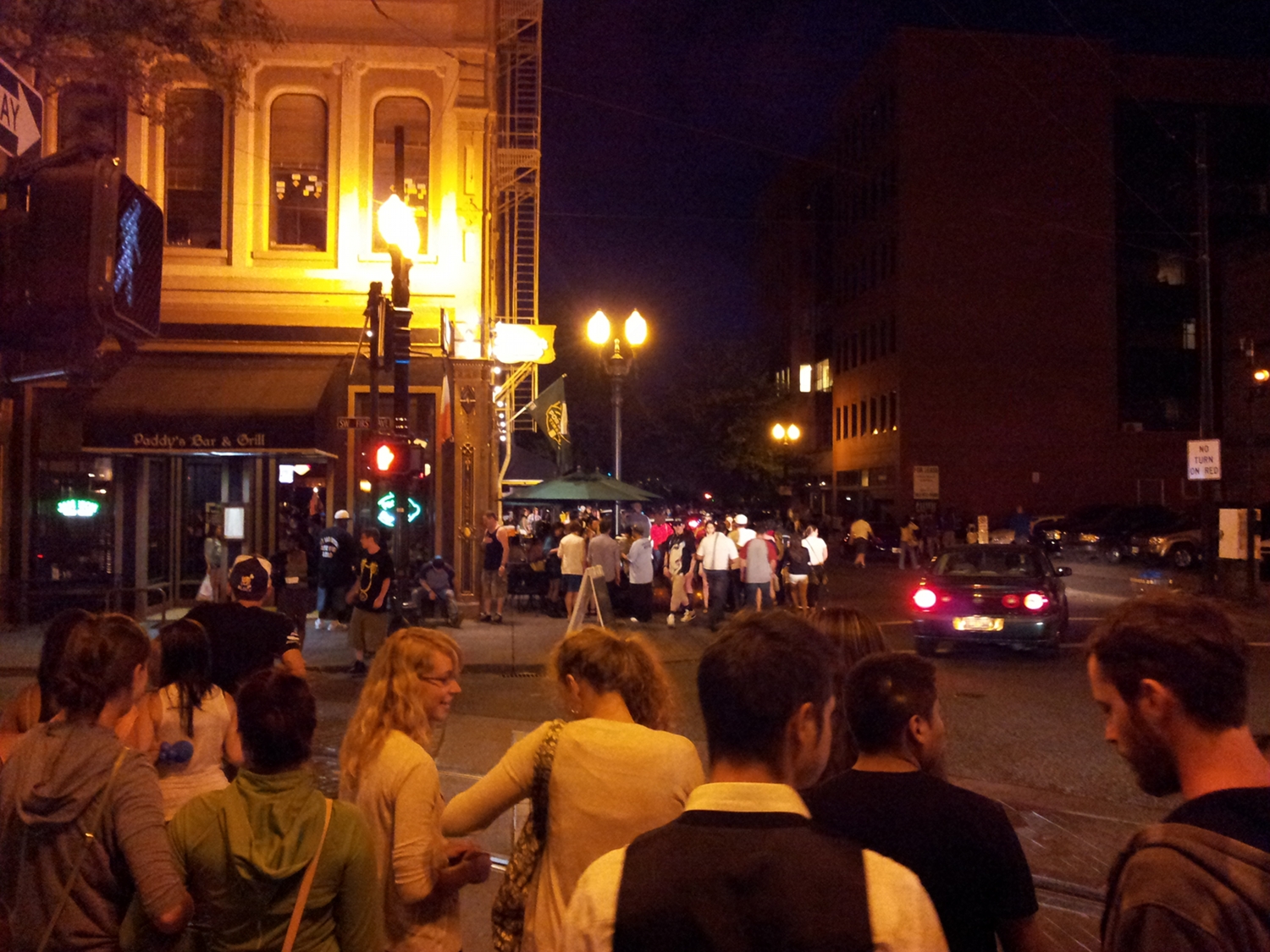 Front camera:  Samsung continued with their trend of putting high-end parts into this phone by not skimping on their front camera like most phone manufacturers seem to be doing.  They tossed in a 2MP camera for video chatting or self photos and not just a VGA as seen on the DROID3.  Solid.
Weight:  This phone is sooooo light.  Could it be too light?  Maybe to some, but to me it was a breath of fresh air after coming from a tank an HTC Thunderbolt.  There are actually times when I forget that it's in my pocket, even with it's massive 4.3″ screen taking up space.
Build:  A lot of people aren't fans of the plastics that Samsung uses for their products, but there is something about this phone that just feels solid.  While I still wouldn't recommend anyone corner-dropping it on concrete, I still feel like this phone could easily last through an entire 2-year contract – and that's what we're looking for, right?  And to give you an idea of the quality, you'll want to watch the battery cover get abused and come out unscathed at this post.
Software:  It's running Android 2.3.3 with TouchWiz on top of it.  While I can't stand TW, it's hard to hate the fact that the device is running one of the newest versions of Android available.  This is one of those phones that really highlights how stable Android as a mobile OS has become.  There are zero lag issues, apps load incredibly quick, and the overall experience is something that I wish all Android phones could experience.  Oh, and I'm also a huge fan of the pulldown toggles, so I've got to give TouchWiz at least a little props there.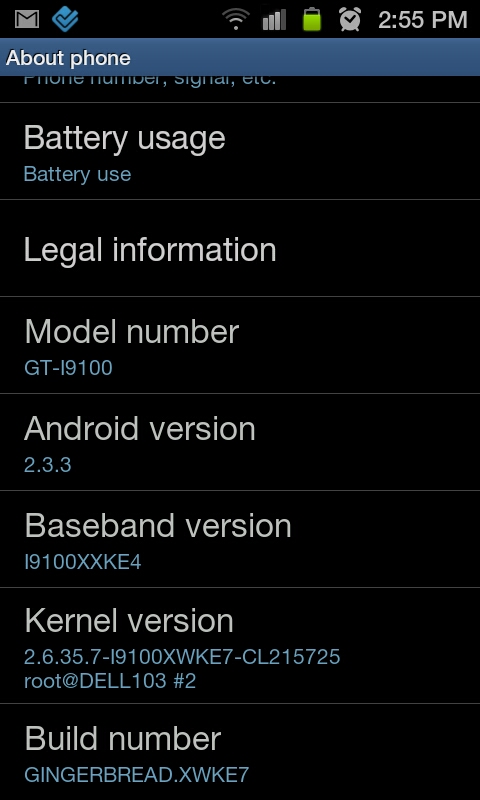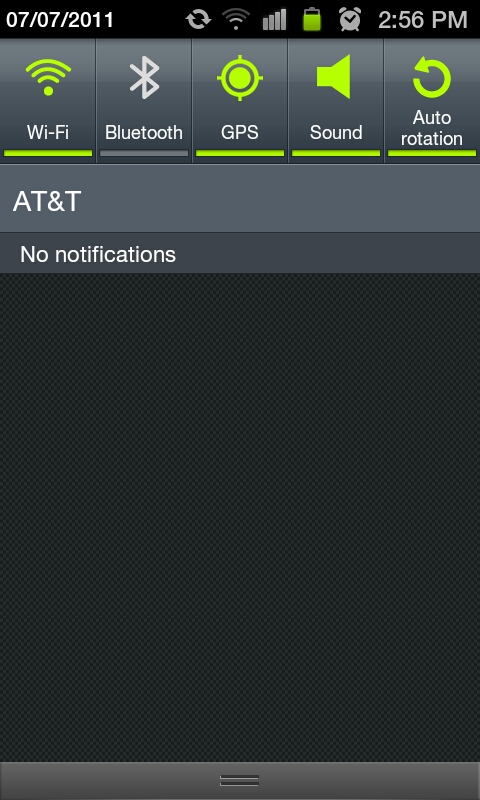 Built-in screenshots:   Samsung has been building screenshot technology into their devices for almost a year now and we wish other manufacturers would take note.  With devices like the SGS2, you don't need to root just to take screenshots of home screens.  All you need to do here is press in the physical home button and then tap the lock button to snap one.  Yep, we're looking at you now Motorola and HTC.
HSPA+ (4G):  OK, so it's not real 4G, but at least it's faster than regular 3G.  Our only worry is that the U.S. version that lands on Verizon won't be 4G LTE.  There are no real confirmations of that being the case, but rumors behind the scenes have certainly suggested that it won't be.  If it's not though, it would still be hard for me to not recommend that you buy this phone – it's seriously that impressive.
The Not-so-Good:
Physical home button:  Yeah, I'm not going to lie, the physical button on this thing is a major turn-off.  If an Apple fan ever needed a spot on example of how Samsung is copying their stuff, they should be pointing right at this.  I have no idea why they decided to get rid of the Home and Search buttons to make room for this god-awful button, but they certainly did.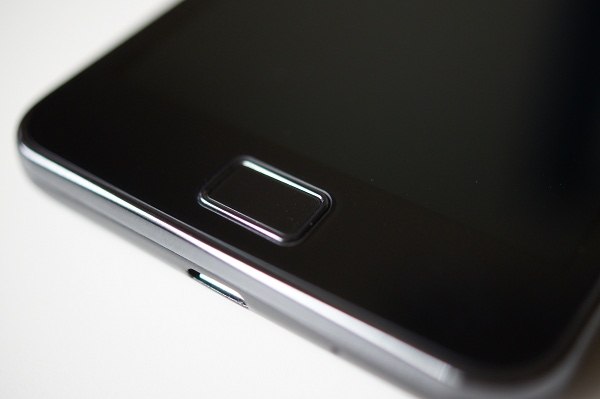 TouchWiz:  TouchWiz sucks for the most part, I've made this pretty clear.  But this is the most polished version I've seen and you can tell that it has definitely come a long way.  Samsung has taken this new magazine-esque approach that is close to being acceptable.  They have even tossed in some pretty solid features like AllShare and a WiFi Direct transfer system – unfortunately, as an Android homer, I want stock.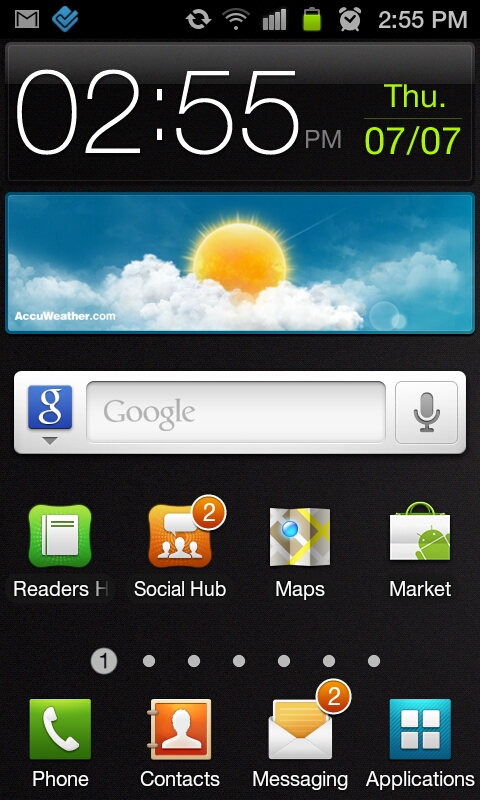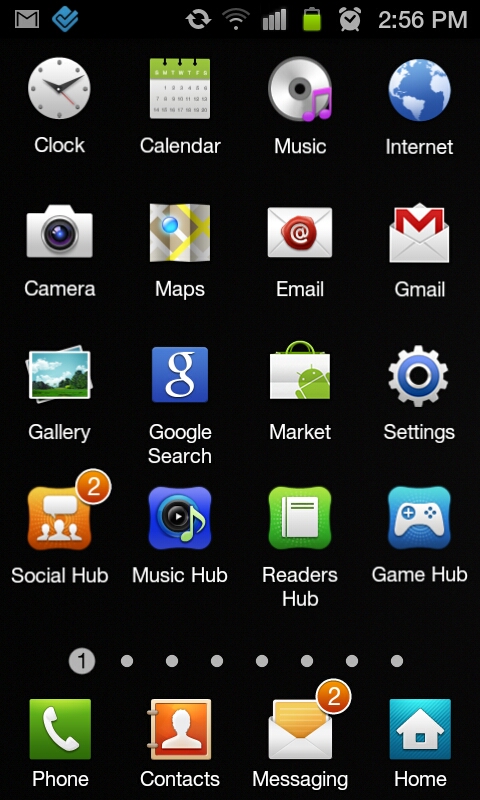 No HDMI-out:  Like I mentioned in the Hardware section, this phone does not have an actual HDMI-out port.  The good news is that Samsung already has a converter to give you an HDMI-out experience.  While the built-in port would have been nice, at least you have an option to make it work already.  It's too bad it'll cost you extra.
Low screen resolution:  As you can see, this is one of those that we threw in because we were struggling to find things wrong with the device.  Since the majority of phone manufacturers are coming out with "qHD" resolutions, we had to fault Samsung a little for still putting out a device with a 480×800 resolution.
Speaker:  The speaker on this phone is not going to blow you away.  It does get pretty loud for ringtones and such, but my experience on actual speakerphone'd calls was not all that impressive.
Seriously, that's all that has bugged me about this phone…
Benchmarks: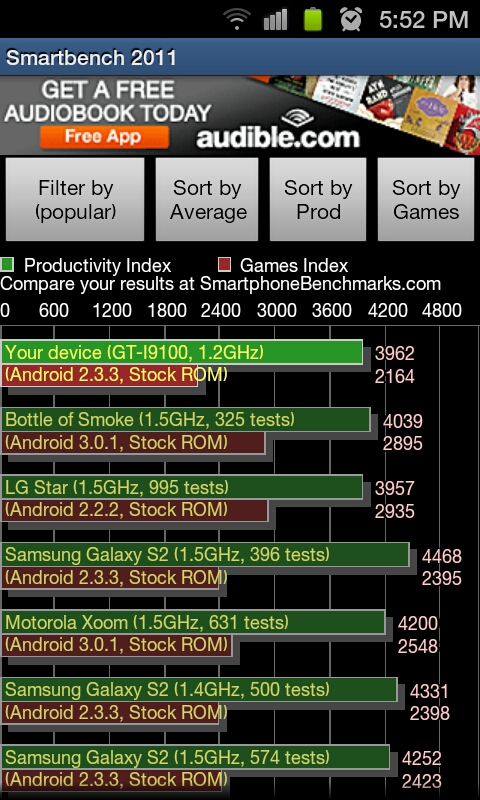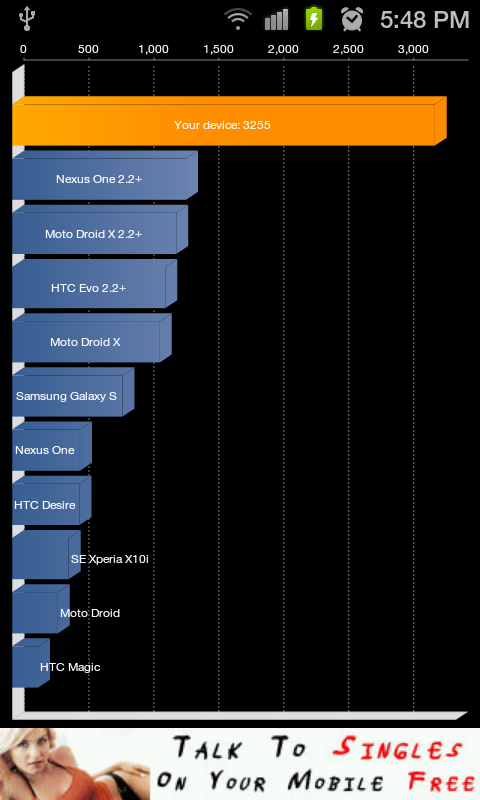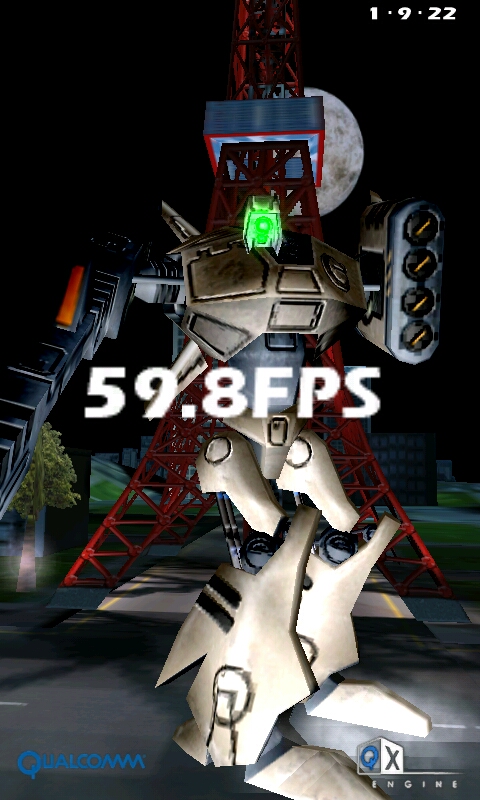 The rest of the benchmarks can be seen at this post.
Hands-on and Quick Walk-through:
Gallery:
The Verdict:
It's the best phone I've used to date – I'm talking ever, and I go through a lot of phones.  Since opening the pretty black package and firing it up for the first time almost 3 weeks ago now, I haven't been able to put it down.  I'm constantly finding reasons to pull this phone out and use it.  The camera takes incredible photos, it browses the internet like a champ, has zero compatibility issues with the apps that I use, gets unbelievable life out of a single battery charge, and powers through everything I've ever tested it with thanks to its dual-core processor.  The Samsung Galaxy S II truly is one of the first Android devices that feels 100% complete.
Now, with all that said, there is one major situation that we need to talk about.  Let's say this device comes out before the DROID Bionic – should you pass on it or pick it up instead?  That's a very tough call.  Like I mentioned earlier, rumors would suggest that this phone will launch without a 4G LTE radio on Verizon, making this decision incredibly tricky.  All of the specs are future-proofed and there is no way you would ever be disappointed with it, but I know that many of you are following the "4G LTE or bust" moniker.
I'll just say again that this is the best phone I've ever used (for now), however, that doesn't mean the Bionic couldn't come in and quickly steal that title away in a few weeks.  We've heard some pretty mind blowing things about the Bionic over the last couple of days from a few key friends, so let's just end this by saying – August should be a fun month.