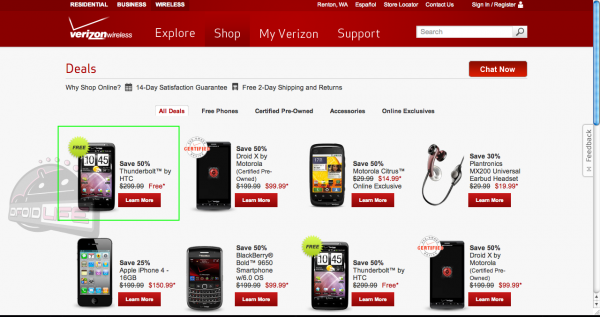 If you've been following us on Twitter or saw this new DROID3 360 degree post today, then you know we've been poking around on Verizon's website, discovering goodies.  This next one though, could be something pretty big if it actual happens in the next week or so.  How does an HTC Thunderbolt for free sound?
Verizon's website is about to undergo a series of changes and part of the kick to those changes might mean a new set of deals which could include the Thunderbolt for free and others like the *cough* i*hone 4 for $150.  There is no telling when this could go off, but with the current $50 gift card promo for the Tbolt ending on July 4, we're thinking it could happen shortly after.  
Anyone interested in a free Thunderbolt?  It may not be dual-core, but it's unlockable, 4G LTE, and has an amazing dev community already.
Cheers 0mie!