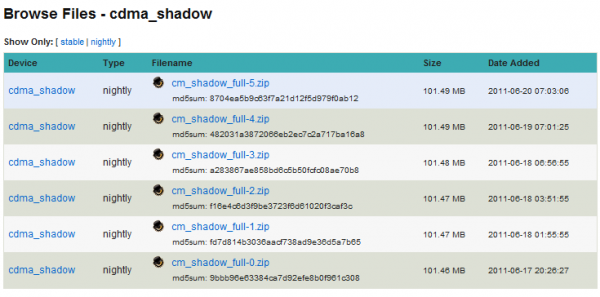 If anyone was excited for the official release, then you should be just as excited for the release of CyanogenMod7 nightlies for the DROIDX. Anyone experiencing problems with the first build, should be reassured that all those bugs will get hammered out in some of these nightly builds. And even better is the fact that @cvpcs, the developer responsible for all this, has been amazingly kind and wrote out exactly what to expect from these builds. You can always grab nightlies on your DX from the CyanogenMod official site, or if you have Rom Manager Premium installed on your device – check there first.
In order to see the nightlies in RM you'll need to do the following:
1.  Open RM Premium and hit the "Flash ClockworkMod" button.
2.  When prompted, choose the "Droid X (2nd-init) recovery."
3.  Once that flashes, you'll be able to view nightlies under "DownloadROM."
So how excited are we all for this? Time to start squashing bugs.
Via:  @cvpcs