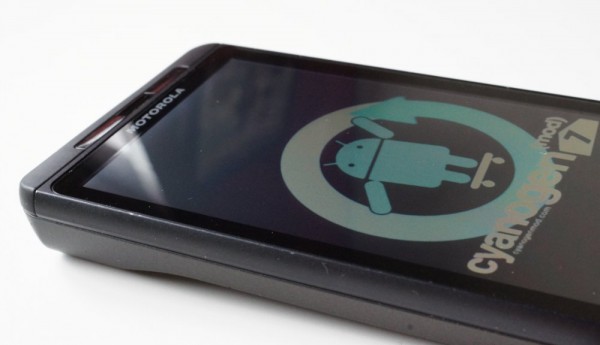 Well folks, it's here.  You can finally get a taste of CyanogenMod7 for the DROIDX.  Our boy @cvpcs worked some magic, tested it over the last few days, ironed out the majority of bugs and has released a version (basically a beta) that's stable enough for everyone to try.  This is a pretty damn exciting day.  And no need to for any extra wordplay, let's just jump on into it.  
READ FIRST:  There are two sets of instructions here – the first is from CVPCS and is essentially the "official" way to get CM7 on your device.  The only problem here is that you'll need to SBF back to 2.3.340 in order for that to fly.  This will be the method that he supports going forward though.  However, if you want to go the fast and sneaky way, then you'll want to check out the instructions that the guys at MyDroidWorld have put together which allows you to jump to CM7 from any build, including the latest Gingerbread (.596).  Both sets are clearly marked below.
Busted Things:  Camera/camcorder and maybe Youtube.
Working Things:  Audio playback, radio, 3g/data, calling, video playback, gps (maybe), accelerometer, notification lights, battery charging, usb connectivity, bluetooth, bluetooth audio, bluetooth calling, wifi, opengl, theme engine, market installs, dsp manager, maybe more?
______________________________________________________
Instructions:  [CVPCS VERSION]
*Note – This method only works if you start from a clean 2.3.340.

*You can donate to CVPCS here.
1.  Flash the 2.3.340 SBF.  [Download]
*If your phone bootloops when it loads back up, pull the battery and boot into recovery by holding Home+Power, then Search when the Android appears.  Select factory reset/wipe data.
2.  Download CM7 for the DX and drop it on your SD card.  [Download] [Mirror]
3.  Install z4root and root your phone.  [Instructions] [Download]
4.  Download and install D2 Bootstrap (NOT DX BOOTSTRAP).  [Download]
5.  Bootstrap your phone and head into recovery.
6.  Scroll down to wipe data/factory reset just for good measure.
7.  Choose "install zip from sdcard."
8.  Then "choose zip from sdcard."
9.  Select the CM7 file that you downloaded from above.
10.  Install and reboot.
*If your phone bootloops on first reboot, pull the battery and reboot into stock recovery holding Home+Power, then Search.  Wipe data one more time and it should boot back up.

*GOOGLE APPS Note – This does not include the set of GApps.  Instructions can be found at the bottom.
11.  Enjoy!
Instructions:  [MDW VERSION]
*Note – This method works regardless of the OS build on your phone.  Can be used with Gingerbread or 2.2.
1.  Download the All-in-One Monster file.  [Download] [Mirror]
2.  Drop the file on your SD card and reboot into recovery.
3.  Go to mounts and storage
4.  Format system
5.  Format data
6.  Format cache
7.  Mount system
8.  Go back
9.  Go to install update from zip
10.  Select the update-cm-*-MONSTER.zip
11.  Install
12.  Install gapps (instructions at the bottom)
*YOU WILL GET A RADIO INSTALL ERROR IGNORE THIS AND RESTART PHONE.

*To install the Radio **** Must be done for GPS to work***After intial install of CM7
13.  Hold down power button and select reboot and then recovery.
14.  In recovery select "install zip from sdard."
15.  Select "choose zip from sdcard."
16.  Find the Monster.zip and install.
17.  Reboot phone.
Instructions for Google Apps:
1.  Once you have CM7 up and running you can find Google Apps in ROM Manager.
2.  Flash ClockworkMod Recovery.
3.  Head into Download ROM and select one of the Google Apps (cvpcs recommended 20110307).
4.  Install.
*FINAL NOTE (PLEASE READ) – DO NOT UNDER ANY CIRCUMSTANCES INSTALL/RUN DROIDXBOOTSTRAP OR DROID2BOOTSTRAP WHILE RUNNING CM7. IF YOU IGNORE THIS YOU WILL HAVE TO SBF YOUR DEVICE.
Cheers faber, Michael K, and Nick!