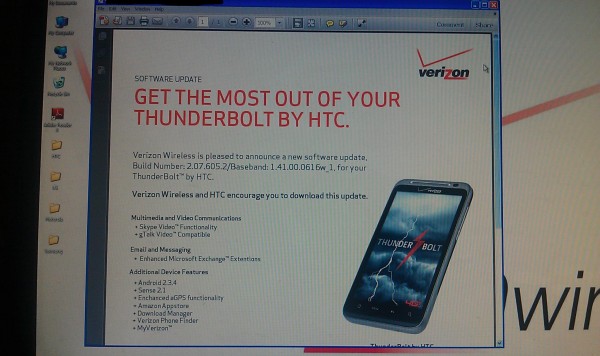 Update:  Sounds like the majority of folks think these are fake.  What grabbed my attention about this story though, was the June 30 release day that also came with their report – we heard the same exact date, but from a very trusted source.  Pics do indeed appear to be fake or at the very least, poorly put together.  Stay tuned…
This couldn't have popped up at a better time from our friends over at Android and Me – we received the exact same tip last night, although their visual evidence is a lot prettier.  According to friends of ours at Verizon, the HTC Thunderbolt could start to receive Gingerbread (Android 2.3.4) by June 30 and it will include Skype with Video.  Yep, the same Skype that seems to have disappeared from the world even though there have been working versions floating around behind the scenes for months.
Verizon and HTC may not be stopping there with video chatting applications though – the internal documents that have been leaked mention that Gtalk with Video will be added as well.  As many of you know, the video side of GTalk has only been available (officially) to the Nexus S, so we're a little surprised to see the Tbolt get it next but won't be complaining.
The phone could also be upgraded to Sense 2.1, which is not the fancy new version that we are seeing on the Sensation and EVO 3D, but does include some additional features that really round out the skin.
Pretty big news on a Saturday.  I guess we'll all stop worrying about that MR2 update?  
Via:  Android and Me