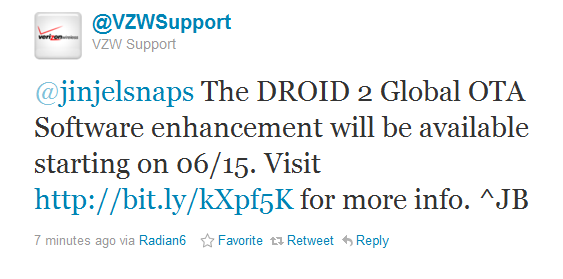 According to @VZWSupport (the official Verizon support account on Twitter), the DROID2 Global should be receiving official Gingerbread (Android 2.3) some time today.  We first reported the news that this was headed to the D2G  this week and that a soak test would kick it off, but Verizon has essentially made it official by sending out this tweet.  The odd thing here is that we have zero reports of anyone receiving it, so maybe they meant 6/16?  Either way, we'll be on the lookout and will ask that all of our D2G readers hit us up should the update become available on your phone.
Head into to Settings>About phone>System updates to check.
Update: It is now being tweeted by Verizon's Support account that the update is rolling out systematically/batches. So don't worry about trying to pull this one just yet. Just wait for the notification from Verizon.