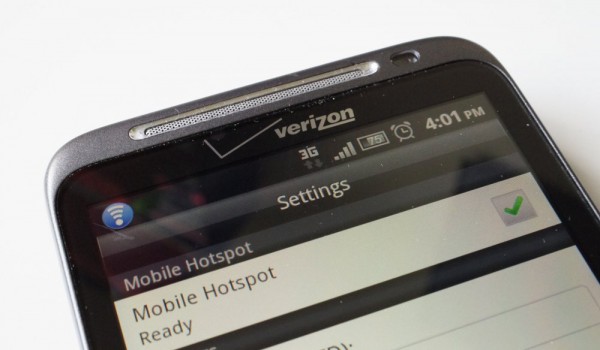 We just received some pretty welcoming news from Verizon concerning the free 4G LTE mobile hotspot promotion that has been available to owners of the DROID Charge, HTC Thunderbolt and LG Revolution for the last couple of months.  According to our friends at Big Red, the promo has been granted an extension and will take users all the way through July 6.  We had already seen one extension that gave us all free hotspot usage through tomorrow, but we'll gladly accept another month.
Verizon Wireless has extended the Limited Time promotion for Mobile Hotspot and Mobile Broadband Connect on 4G LTE (Long Term Evolution) Smartphones, ThunderBolt by HTC, DROID Charge by Samsung, and Revolution by LG. The following are the Unlimited Hotspot promotion details.

Limited Time promotion available through 7/6/2011 which allows customers unlimited 4G LTE Mobile Hotspot and Mobile Broadband Connect usage until July 6, 2011 with the purchase of a ThunderBolt by HTC, a DROID Charge by Samsung, or a Revolution by LG, with a voice plan and a data package $29.99 or higher.

The $20/GB (Gigabyte) plan will not be available on 4G LTE Smartphones. On July 6, 2011 a software update will remove the Mobile Hotspot offer. A message will be sent to the end user to contact their system administrator to subscribe to Mobile Hotspot.
So be sure to live it up for another month!  You never know what sorts of prices we could see once July hits.  And props to Verizon for continuing to extend this out for additional months.  I can't put into words how important this feature was to me at Google I/O this year with all of the spotty wifi hotspots floating around.  It definitely kept Droid Life afloat for those few days.
Cheers ___!