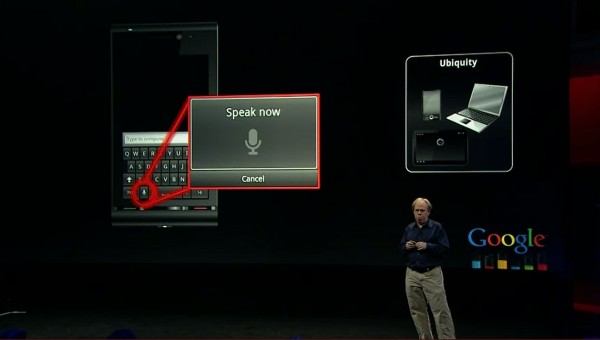 Google was on stage a couple of hours ago talking about all things Search including a bunch of new mobile features that went live today.  During their presentation though, they cruised through a number of demos that featured devices such as the Nexus S and original DROID, but there was one that caught the eye of and confused famed Android opinionaire (that a word?) Russell Holly.  The device is pictured (possibly just a render) above – so what is it?  
We've blown it up for you a bit below, but it's still pretty hard to make out.  The phone definitely lacks branding and we were originally going to cast it off as some ancient basement dweller, until we saw that it has a front facing camera.  It also appears to be missing physical home/search/menu buttons which have been rumored to have disappeared in Ice Cream Sandwich.  The odd thing is that the keyboard they are showing is from Froyo and not from Gingerbread, so maybe it's not ICS?  What are those green and red physical call buttons though?  It almost looks like a hybrid DROIDX gone FroyoBreadSandwich.
Update:  It's looking like they took the Sony Ericsson Satio and spiced it up with some Photoshopped Froyo. False alarm…and talk about a random phone to use in a presentation? (Cheers @MeetAndroid!):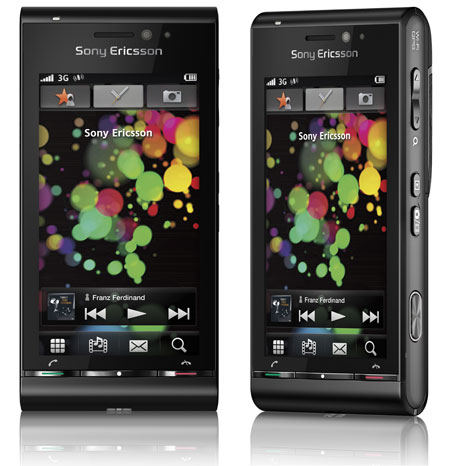 What do you guys think?  Random ugly render of a non-existent device or is it the new Nexus running Ice Cream Sandwich?
And thanks again to @russellholly for pointing this out!