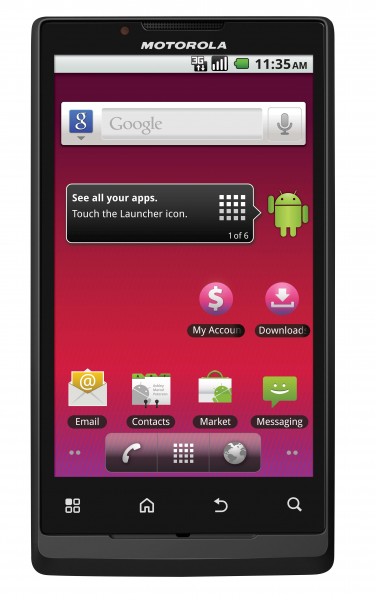 Sprint just got done announcing a pair of upper echelon Motorola phones in NYC:  the Photon 4G and the Triumph.  Both phones are pretty impressive spec-wise, and while one of them does look like a giant angled-corner coaster, we're here to talk about something else that grabbed our attention.  Anyone else notice that the Triumph (that's actually headed to Virgin) is running stock Android?  Who would have thought that we'd ever see something this clean from Moto ever again?
We all know how big a fan Moto CEO Sanjay Jha is of his MotoBlur, so why is it that smaller carriers like Virgin are worthy of a stock experience, but not the big dogs like Verizon, Sprint, etc.?  Sure, it might be Froyo and not Gingerbread, single core processor instead of dual-core, but wouldn't most of us take stock 2.2 over skinned 2.3 any day?  This guy sure would.  
So what's the deal?  Are carriers asking for skins so they can differentiate between the devices to customers?  Could be, but when was the last time you walked into a store and a VZW rep said, "Well you could have TouchWiz, Blur or Sense…"?  I seriously couldn't name one.
One of our readers went as far as to call this a "slap in the face" to long time Motorola supporters.  And seriously, I tend to agree with that.  How long have we all been asking for a stock experience from these guys (both Moto and Big Red)?  The only one we've seen to this day was the same phone that brought their entire company back from the dead – the original Motorola DROID.  Now, I'm no marketing or sales guru, but don't you usually try to reproduce products that have had enormous amounts of success in the past?  "If it ain't broke, don't try to fix it" sort of thing?
Oh, and to add to the pain, here is a quick comparison I tossed together of the new DROID Bionic (more leaked pics) next to the Triumph since they look ridiculously similar.  Almost the exact same form factor (smaller screen on the Triumph though), only there is no chance in hell that the one on the left comes skinless.  So sad.  Can you imagine what new Moto hardware would do these days with an untouched OS?  Think back to all of the amazing tweaks, overclocks, and ROMs we put the OG through…
And I know this is all just me preaching to the choir, but I wanted to get all of your thoughts on it as you all tend to have much more entertaining responses than anyone else in this Android community.  So, any thoughts on a stock Moto device that will never see a major carrier?