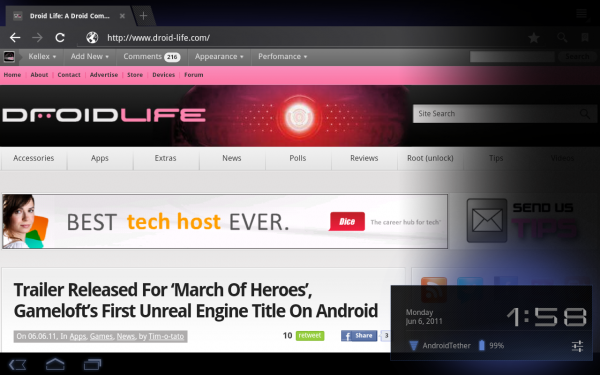 It was just last week that we reported on a new blocking method that Verizon had enabled to stop rooted DROIDX users with Gingerbread from using select wireless tether apps.  Today though, thanks to one of our fabulous readers, we have a work-around for the DROIDX (possibly other devices) that appears to get you up and running in just a matter of minutes.  Hopefully this gives you a little bit of time while that FCC complaint over this very same subject is being looked at.    
Instructions:
1.  First, you'll need to download this new Wireless Tether beta. [more info]
2.  Open up the app after installing, and headed into Settings.
3.  Under Device-Profile, search for "Motorola DroidX (CDMA)" or "Motorola Droid2" and select it.
4.  Then scroll down to find "Change preferred DNS."
5.  Change the DNS to 4.2.2.2.
6.  Then change the "alternate DNS" to 4.2.2.1.
7.  Turn on Wireless Tether and connect any device you like.
Update:  I had originally thought that the DNS server made a difference, but it doesn't.  The key here appears to be step 3 where you specify the DROIDX under Device-Profile.  So, feel free to continue to use DNS 8.8.8.8 which is Google's public server.
*Note – If this works on any other devices, please feel free to leave that in the comments.
Cheers DroidRooterX!