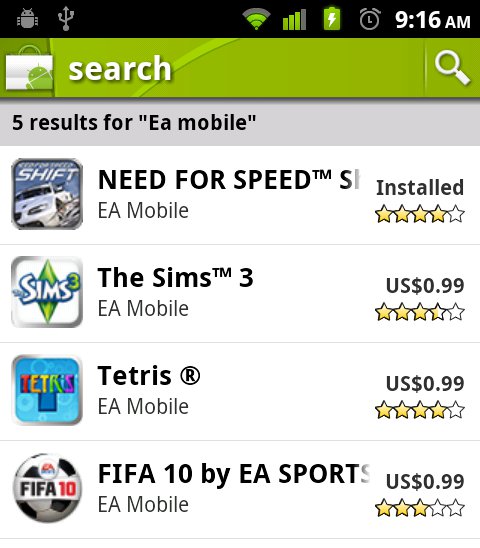 It's starting to be a great month for games on Android, especially now that all of those missing EA games have started to return. Back in February, EA decided to pull their lineup of games from the Android Market for no apparent reason, which led many upon many users to take to the interwebz to give them a piece of their mind. One user states (which we found hilarious):
I PAID FOR A PRODUCT!! I EXPECT UNFETTERED ACCESS TO THE PRODUCT 24/7, 365 WITHOUT UNDUE INTERRUPTION AND WITHOUT HAVING TO PAY FOR IT AGAIN!
We do agree wholeheartedly though. Well now everyone can start beginning the lookout for those missing titles. A simple search of EA Games in the Market delivered me to what looks like all of their games: Sims 3, NFS, Bejeweled2, Worms, and some other classic games. So go check the Market and see if your games are back.
We're hearing that games are showing up, but some are not allowing users to install.  We'll have to keep an eye on it…
Cheers @quakerdan!