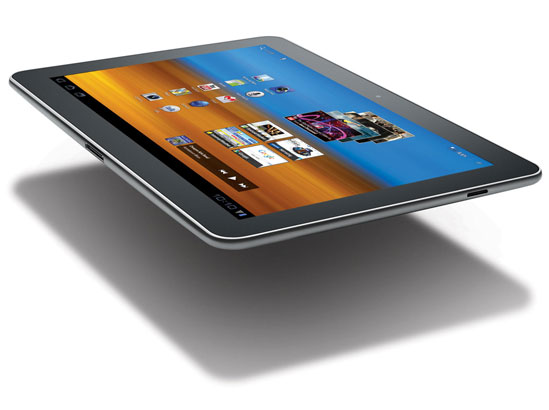 For some reason, we were the only site covering the launch of the 4G LTE-enabled Samsung Galaxy Tab 10.1 which is odd, since it was just announced by Verizon and will be available for pre-order starting June 8 with a somewhat open-ended actual release date.  The tablet, just as we said a couple of times, will come in two colors (metallic gray or glossy white), two storage sizes (16GB or 32GB) and at two price points ($529 and $629 on-contract).  It will run on Verizon's 4G LTE network out of the box (3G too) from what we can tell, something the Motorola XOOM still can't and may never do.  There will also be a whole bundle of accessories available at launch including a full-sized keyboard dock and multi-media station.  Yep, this has "win" written all over it if you are looking to get into a new tablet.
Oh, we forgot to mention that it will launch with Android 3.1 and allow users to take advantage of the new Movies tab in the Market.  And that TouchWiz set of widgets and customizations that you've seen from preview videos?  That won't be there initially, but will come in the future through an OTA update.
So to recap – you've got the thinnest tablet on the planet, a beautiful 10.1″ screen, Android 3.1, movies, accessories, two price points, two colors and 4G out of the box.  You should be signing up now.
Update:  Samsung also announced the availability of the WiFi-only version here.
More info here.  Presser after the jump.      
Verizon Wireless Adds 4G LTE-Enabled Samsung Galaxy Tab™ 10.1 To Portfolio

4G LTE-Enabled Samsung Galaxy Tab™ 10.1, Exclusive from Verizon Wireless, Measures Only 8.6 Millimeters Thin

BASKING RIDGE, NJ, and DALLAS, TX — Verizon Wireless and Samsung Telecommunications America (Samsung Mobile), today announced the 4G LTE-enabled Samsung Galaxy Tab™ 10.1 will be available on the fastest, most advanced network in coming weeks. The slim and sleek Galaxy Tab 10.1 debuts with Android™ Honeycomb and will be available in either Metallica Gray or Glossy White. Customers will be able to pre-order the device online on June 8 at www.verizonwireless.com/galaxytab4glte. When the Samsung Galaxy Tab 10.1 hits Verizon Wireless stores this summer, it will be accompanied by an array of optional accessories such as a full-sized keyboard dock and a multi-media docking station.

"The Samsung Galaxy Tab 10.1 is a great option for customers who want to enjoy the Verizon Wireless 4G LTE network – the fastest network in America," said Jeff Dietel, vice president of marketing for Verizon Wireless. "Customers can also use the Samsung Galaxy Tab 10.1 wherever they are on the nation's largest 3G network."

Dietel added, "The tablet market is exploding as customers are discovering new uses for the technology that features a large screen, powerful processing speeds and access to Android Market™'s 200,000 applications. The Samsung Galaxy Tab 10.1 is perfect for customers who want to take advantage of Google™'s new movie rental option and view their favorite film on-the-go."

"Samsung Mobile is excited to expand its mobile tablet portfolio with Verizon Wireless to include the 4G LTE-enabled Samsung Galaxy Tab 10.1," said Dale Sohn, president of Samsung Telecommunications America. "The Samsung Galaxy Tab 10.1 is the thinnest and lightest tablet in the world that delivers a truly mobile multimedia experience on an Android Honeycomb platform."

The Samsung Galaxy Tab 10.1 offers full support for Google™ Mobile Services, including GmailÔ, YouTube™ and more. Customers will relish the 10.1-inch enhanced display with a1280x800 resolution HD screen, 1 GHz dual core application processor, a 2-megapixel front-facing camera and a 3-megapixel rear-facing camera. Both consumers and business customers will find a multitude of uses for the Galaxy Tab that range from video chat to business tools, including those that allow for the opening and editing of documents, spreadsheets and presentations. The Galaxy Tab 10.1 features Adobe® Flash® Player to deliver an enhanced Internet browsing experience and access to content-rich Websites.

Verizon Wireless will offer two 4G LTE-enabled Samsung Galaxy Tab 10.1 models both priced with two year customer agreements: $529.99 for the 16GB model and $629.99 for the 32GB model. For more information on the Samsung Galaxy Tab, go to:www.verizonwireless.com/galaxytab4glte.

About Verizon Wireless
Verizon Wireless operates the nation's fastest, most advanced 4G network and largest, most reliable 3G network. The company serves 104 million total wireless connections, including more than 88 million retail customers. Headquartered in Basking Ridge, N.J., with 85,000 employees nationwide, Verizon Wireless is a joint venture of Verizon Communications (NYSE, NASDAQ: VZ) and Vodafone (LSE, NASDAQ: VOD). For more information, visitwww.verizonwireless.com. To preview and request broadcast-quality video footage and high-resolution stills of Verizon Wireless operations, log on to the Verizon Wireless Multimedia Library atwww.verizonwireless.com/multimedia.

About Samsung Telecommunications America
Samsung Telecommunications America, LLC, a Dallas-based subsidiary of Samsung Electronics Co., Ltd., researches, develops and markets wireless handsets and telecommunications products throughout North America. For more information, please visitwww.samsungwireless.com.

Android is a trademark of Google, Inc.

Adobe and Flash are either registered trademarks or trademarks of Adobe Systems Incorporated in the United States and/or other countries.