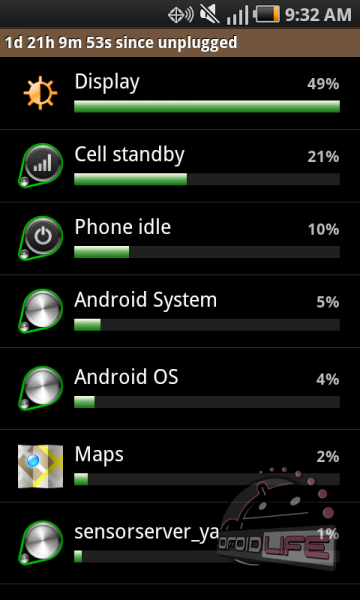 We've been playing around with the DROID Charge for almost 6 days now and had to point out one thing in particular before we jump into our full review:  the battery life is ridiculously good.  One of the major problems we all had (some still have) with the HTC Thunderbolt, is the pathetic battery life unless of course we tweak 18 sync settings and buy an extended battery.  But with the Charge, I haven't touched one extra setting and as you can see, have cruised through almost 2 days without plugging it back in to give its standard 1600mAh battery any extra juice.
And I should also point out that for whatever reason, I've had some connection issues with this phone (that apparently no one else is), which you would think would hammer on the battery.  Nope, not the case.  If after turning it off/on a dozen times, switching between 4G and 3G-only, the phone still managed to hold on for 2 days.
Also, here is the status of MrPicolas' battery after more than 2 days of 4G/WiFi:
So if you haven't decided yet whether you should buy this or the Thunderbolt, feel free to add battery life to the +1 side of the Charge.  And we'll be dropping our full review on it this week some time, but are sort of waiting for Verizon to decide when they plan to release it before doing so.  Stay with us.