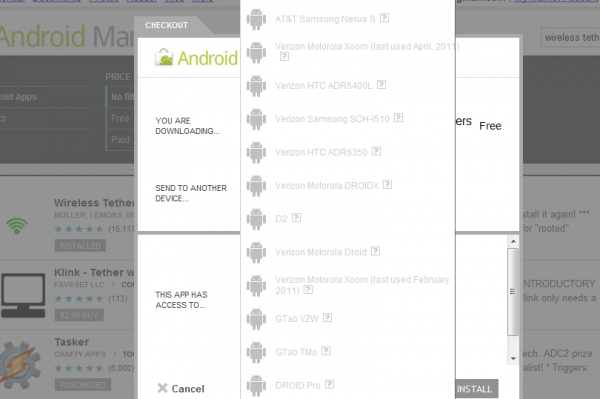 If you aren't sure what that picture is saying, let me attempt to break it down for you.  After receiving a tip that Verizon may be blocking Wireless Tether from the market, I decided to do a little digging on the variety of devices I own.  Sure enough, from all of my phones, including the Nexus S I have running on AT&T, I was unable to find Wireless Tether in the market.  So to see what was really going on, I jumped into the browser-based Android Market to see if I could find the app and definitely did.  But what you are seeing, is my list of devices, all of which cannot accept this app.
Now, we've known for some time now that carriers were going to start cracking down on tethering, and you know what, it makes sense that they would.  In fact, AT&T has been warning users that were illegally tethering over the last week, so it wouldn't surprise us if Verizon was jumping on board with that program.  And if these quick couple of searches that I performed this morning mean anything, then it looks like your days of "stealing data" are about to come to an end.
Anyone else able to find Wireless Tether?  Let me know your phone and carrier please.
Cheers AC!