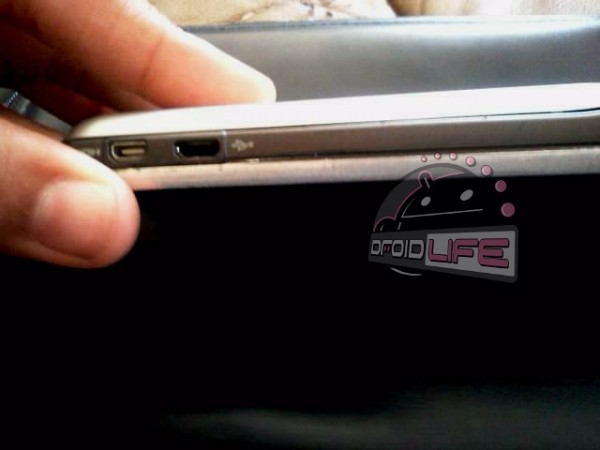 Last week we were tipped to the possible existence of two new Motorola Tegra 3 devices headed for Q1 2012 codenamed the Jet and Bullet, but without confirmation from additional sources, it was definitely dubbed as one giant "rumor."  And then this weekend, we received these two pictures that are also apparently of an unannounced Motorola device in testing.  Is it the Targa?  Could it be the Bullet?  Maybe it's just a DROIDX2 with a fat battery cover?  And of course it could be nothing at all and just a fake?  It's really impossible to tell from these pictures, so we'll just have to let you guys decide.  
What we've been told is that it's a "multi-core" phone with a qHD display, that new 12MP camera we talked about last week, and a rubbery silver back that houses a 1900mAh battery.  Also, there are apparently 4 devices very similar to this in testing, so again, we have no idea what this is or could be in the future.
What do I think?  Well, the silver almost looks like a really bad paint job, but as those that follow this blog closely know, silver testing devices are not uncommon from Motorola.  The HDMI and micro USB ports are in a similar spot to the DX and DX2, but look to be slightly lower on the side of the device, so I'd almost rule out the DX2.  It doesn't look much like the early renders we've seen of the Targa other than the color, so I'd lean towards ruling that out.
The odd thing is that the back piece appears to not fit at all on the back side which you can see from the small gap towards the right side of the picture.  If this is indeed real, it looks to me like a DX body, but they needed to make room for new internals and went with some giant make-shift battery cover.  I guess this could be a nice way to disguise an unannounced phone?
And then this picture really just looks like a DX and nothing more…
And here are two pics of my DROIDX compared to these at similar angles.  As you can see, it has almost the exact same shape, but that extra silver back piece is throwing us all for a loop.
(Click images for bigger comparisons.)
What do you guys think?