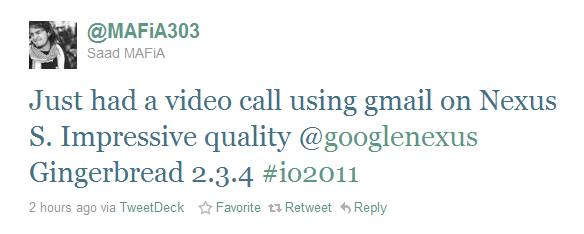 With Google I/O just two weeks from tomorrow, our first hint as to what we can expect may have just splashed all over Twitter thanks to @MAFiA303, who "works" with Samsung.  How does Google Talk with Video sound?  As a feature currently only enjoyed by those of us with Honeycomb (Android 3.0) tablets, this would be huge to everyone else that now has a phone with a front-facing camera and hates the current crop of video chatting apps on the market.
And I realize that the tweet above talks of video calling "using Gmail", but we're going to assume he meant Google Talk.  Building a video chatting feature into Gmail makes zero sense especially when its GTalk brother already has it.  Also, if this tweet above is to be believed, the next version of Android to touch the Nexus S will be version 2.3.4.  And now you know why I bought that pretty little white one.
Oh yeah, we'll be there for it all.
Via:  Twitter, Android Police