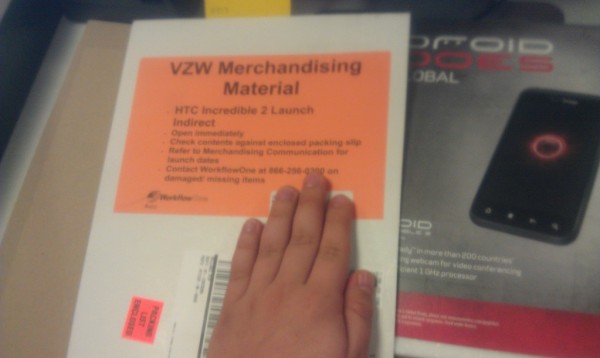 We were sort of expecting to see DROID Charge marketing materials before the DROID Incredible 2's started to arrive, but you won't see us complaining.  We had word that the Inc2 would arrive next week on April 21st, so this is exactly what we like to see.  We must be gettin' close, folks, especially after seeing accessories for the device arriving in stores last week.
So what do we know about the Incredible 2? Well, we broke the news 3 times now on it being a global device (here, here, and here) which seemed to come as a surprise to those outside of DL.  We know that it will essentially have identical specs to the Incredible S with a 4″ screen, front and back cameras, and a 1 GHz processor.  It's really just a slimmed-down Thunderbolt without 4G LTE, but still has that sexy contoured back from the original.  
Via:  Android Central
______________________
Some of our best videos.