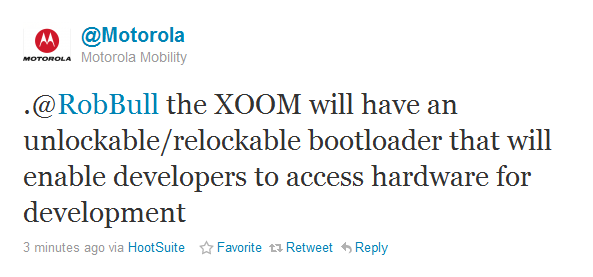 According to the "official" Motorola Twitter account, the XOOM will come packed with a "unlockable/relockable bootloader" that gives developers access to hardware for development.  Yes, you are reading that correctly.  I'm actually speechless right now…what exactly does that mean though?  Do they have something secret planned to control developer access, but complete limit end user?  Will it be similar to the Nexus S method?  I have no idea, but the hammering of the account has already begun, so keep it hear as we'll be all over this.
Update:  Not that this adds anything new to the situation and is the same message tweeted above, but the Moto forums manager confirmed this as well…(Cheers Matthew!)
Greatest news of the week…month…year?
Cheers Mark!