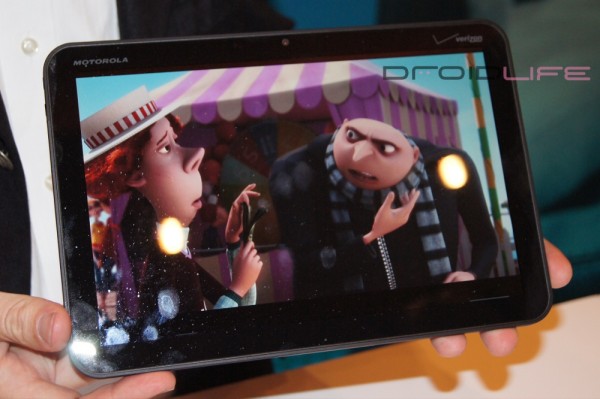 Official!  Not that any of this news will come as a surprise to anyone, but the Motorola XOOM has been announced by Verizon and will be in stores on February 24.  You will have two options if you are interested in having the first Honeycomb tablet:  no contract and pay $799 or sign a 2-year contract and pay $599.  Hmmm, wonder where that $599 number came from?  Oh, from us!
In the official press release, there are no mentions of a 1-month data requirement if you choose to buy the XOOM at the full $799 price.  We first mentioned that being a Best Buy requirement, just like it was with the Galaxy Tab, and that looks to be the case here as well.
And 1 down, 1 Thunderbolt to go.  
MOTOROLA XOOM TABLET TO BE AVAILABLE ON THE VERIZON WIRELESS NETWORK ON FEB. 24

"Best of Show" Winner at 2011 Consumer Electronics Show Delivers the World's First True Tablet Experience, With Upgrade to 4G LTE in Q2

BASKING RIDGE, N.J., and LIBERTYVILLE, Ill. – Verizon Wireless and Motorola Mobility, Inc. (NYSE: MMI), today announced the Feb. 24, 2011 availability of the innovative new Motorola XOOM™ tablet, which won the coveted CNET Best of Show award at the 2011 Consumer Electronics Show for being "the most potentially disruptive technology."  The first device to run Google's new Android 3.0 Honeycomb operating system, the Motorola XOOM will be available for purchase from Verizon Wireless for $599.99 with a new two-year customer agreement or $799.99 without a contract.  Wireless 3G data service for the Motorola XOOM will begin at $20 monthly access for 1GB.  The Motorola XOOM will be upgradeable to 4G LTE service at no additional charge in the second quarter of 2011.

A powerhouse in both software and hardware, the Motorola XOOM is built around a 1GHz dual-core processor and 10.1-inch widescreen HD display.  The sleek, stylish design features a front-facing 2-megapixel camera for video chats, as well as a rear-facing 5-megapixel camera that captures video in 720p HD.

The Motorola XOOM showcases the innovations of the Honeycomb user experience that improves on Android favorites such as widgets, multi-tasking, browsing, notifications and customization, as well as featuring the latest Google™ Mobile services.  The Motorola XOOM also features full support for tabbed browsing and support for the Adobe® Flash® Player, available soon as a free download, to enjoy all the video and other rich content available on the Web.  For additional information about upgrading their XOOM to 4G LTE, customers can visit www.verizonwireless.com/Xoom4GLTEUpgrade starting Thursday, Feb. 24.

For more information on Verizon Wireless products and services, visit a Verizon Wireless Communications Store, call 1-800-2 JOIN IN or go to www.verizonwireless.com.

To learn more about Motorola XOOM, visit www.verizonwireless.com/xoom.

About Verizon Wireless
Verizon Wireless operates the nation's fastest and most advanced 4G network and largest and most reliable 3G network, and serves more than 94 million customers. Headquartered in Basking Ridge, N.J., with 82,000 employees nationwide, Verizon Wireless is a joint venture of Verizon Communications (NYSE, NASDAQ: VZ) and Vodafone (LSE, NASDAQ: VOD).  For more information, visit www.verizonwireless.com. To preview and request broadcast-quality video footage and high-resolution stills of Verizon Wireless operations, log on to the Verizon Wireless Multimedia Library at www.verizonwireless.com/multimedia.

About Motorola Mobility
Motorola Mobility, Inc. (NYSE:MMI) fuses innovative technology with human insights to create experiences that simplify, connect and enrich people's lives. Our portfolio includes converged mobile devices such as smartphones and tablets; wireless accessories; end-to-end video and data delivery; and management solutions, including set-tops and data-access devices. For more information, visit motorola.com/mobility.

MOTOROLA and the Stylized M Logo are registered trademarks of Motorola Trademark Holdings, LLC.  Android and Google are trademarks of Google Inc. All other product and service names are the property of their respective owners.  © 2011 Motorola Mobility, Inc.