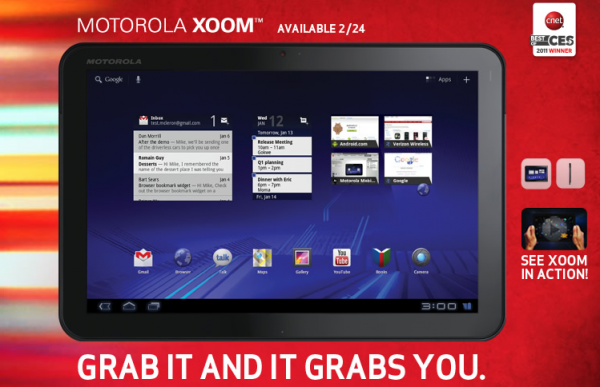 Not that this should come as a surprise to anyone, but the Motorola XOOM will launch on Verizon, February 24.  The landing page at Big Red's site has been updated as of a few minutes ago showing "AVAILABLE 2/24", so we'll probably wake up in our west coast beds to a shiny little press release.  Yah, Thursday!
Update:  And since I was half asleep at 1:30AM posting this, I completely missed the little note in the bottom right corner of the XOOM page which clearly says "Adobe Flash expected Spring 2011."  So no "real" web experience at launch…great.  (Cheers Chris!)
Update:  I tweeted this pic last week which clearly states that Flash will not be available.  Sorry folks, you should have known this days before this if I was on top of my game.

Cheers Goran!