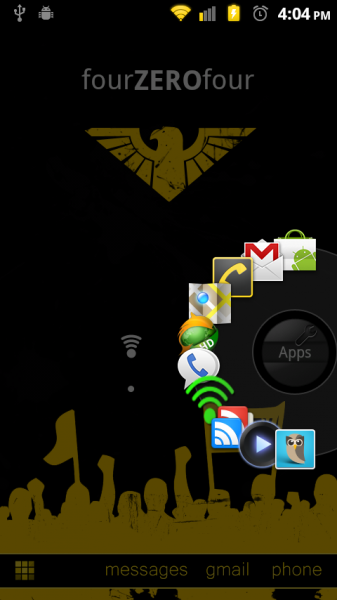 Now here is an app deserving of a Friday send off.  CircleLauncher, has been on my phone for all of 10 minutes and I can't get enough of it.  The app allows you to attach up to 9 (recommended) of your favorite apps or contacts and display them in a beautiful, yet functional manner.  You have color options, layout options, label options and we're guessing this is only the beginning.  CircleLauncher has only been out for 3 days, but it looks like it's had 6 months worth of polishing.  I went with the circle layout, but there are horizontal and vertical styles that look just as spectacular.  For those of us loving a minimalist homescreen, this surely helps.
I should probably add a note about this being a widget and not a "launcher."  We wouldn't want the LauncherPro and ADW fanatics getting all hot and bothered, would we?
There is a lite version, but the full version will only set you back about $1.20.