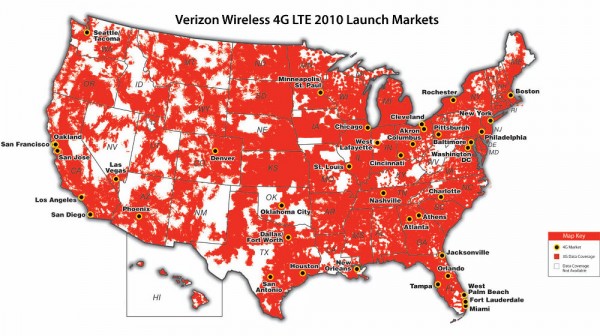 During all of Verizon's 4G LTE device madness, they walked through their plans for rolling out their new network to the rest of the country.  By the end of 2011, they are expecting to be in at least 140 markets and covering 2/3 of the U.S. once 2013 finishes up.  The overall goal is to have 4G LTE access in every single spot that they currently offer 3G service in.  Sounds brilliant, right?  Well other than the 38 cities that are currently offered, what can we expect in 2011?  If they plan to hit 140, they need to get going, right?
Here is the list of cities expected to see an initial push…  
Huntsville, Alabama
Mobile, Alabama
Montgomery, Alabama
Little Rock, Arkansas
Colorado Springs, Colorado
Gainesville, Florida
Lakeland-Winter Haven, Florida
Pensacola, Florida
Sarasota-Bradenton, Florida
Tallahassee, Florida
Augusta, Georgia
Honolulu, Hawaii
Kahului-Wailuku, Hawaii
Lahaina, Hawaii
Boise-Nampa, Idaho
Carbondale-Marion, Illinois
Wichita, Kansas
Baton Rouge, Louisiana
Hammond, Louisiana
Detroit, Michigan
Flint, Michigan
Fayetteville-Lumberton, North Carolina
Greensboro-Winston-Salem-High Point, North Carolina
Raleigh-Durham, North Carolina
Wilmington, North Carolina
Dayton-Springfield, Ohio
Tulsa, Oklahoma
Erie, Pennsylvania
State College, Pennsylvania
Charleston, South Carolina
Columbia, South Carolina
Greenville-Spartanburg, South Carolina
Hilton Head, South Carolina
Sioux Falls, South Dakota
Chattanooga, Tennessee
Clarksville, Tennessee
Cleveland, Tennessee
Kingsport, Tennessee; Johnson City, Tennessee; Bristol, Virginia/Tennessee
Knoxville, Tennessee
Memphis, Tennessee
Beaumont-Port Arthur, Texas
Bryan-College Station, Texas
Provo-Orem, Utah
Salt Lake City-Ogden, Utah
Centralia, Washington
Olympia, Washington
Charleston, West Virginia
Madison, Wisconsin
Milwaukee, Wisconsin
That's an additional 49 cities that will go live in the first part of the year and will be able to take advantage of some of the new devices like the HTC Thunderbolt and DROID BIONIC.  No Oregon though, eh?  I guess my Thunderbolt will be just as awesome in 3G.
Anyone seeing their city on the list?
Cheers Ian!