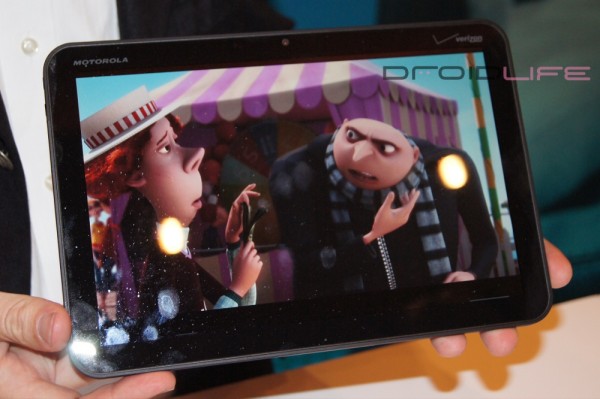 Right after we spent some time with the DROID BIONIC, we hopped over to take a look at the Motorola XOOM which will be the first "true" Android tablet to be released.  They wouldn't actually let us put our hands on it and the wouldn't walk-through Honeycomb (Android 3.0), but we were still in love.  They kept mentioning that Honeycomb wasn't finished yet, so they ran through a bunch of preloaded Youtube videos that showcased some of its features instead.
Here are the specs:
Dual-core processor (each running at 1GHz)
10.1″ screen (1280×800 resolution)
2MP front camera
5MP rear camera (records 720p HD video)
Supports 1080p video playback
HDMI out
Built-in gyroscope, barometer, e-compass and accelerometer
When the first version is released this quarter, it will come as a 3G device just like we reported last week, but will be upgradeable to 4G LTE.  Then in Q2 of this year, the device will ship as a 4G LTE tablet.
I'll just say that Honeycomb will be amazing once it is finalized.  Again, they wouldn't actually show anything live in action on it, but seeing some of the redesigned apps like Gmail and Youtube had us excited.  Be sure to check out the Honeycomb teaser video that leaked out earlier.  We should mention that they showed this same video at the event and would have blown our minds had the Android Developers not published it 4 hours early.
Full gallery after the break.  Video on its way.