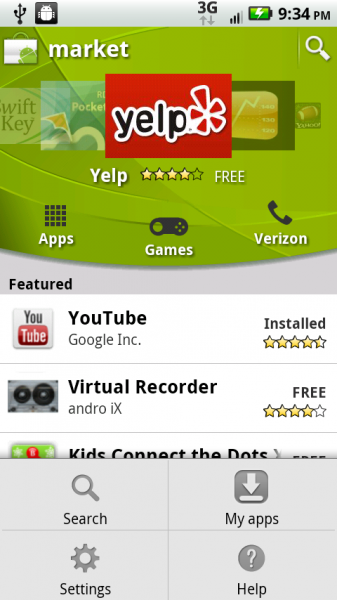 Anyone else have a market that looks like this?  We just received these shots from one of our readers and it looks like another silent Android Market update might be going out only this time it doesn't just add a new tab.  This is a full on facelift that makes the market look as hot as any app market you'll see on any OS.
The interesting thing here is that the new "Related" tab that we were introduced to just a few days ago is already gone and we aren't caring as long as ours looks like this soon.
Update 2:  Download the new market here.
Update:  The Android Developers team just announced it.  Here are some of the details:
Refund window changing to 15 minutes.
New carousel with featured apps on main page.
Widgets and Live Wallpapers categories added.
Related content added to app page.
Single page app viewing.  All info in one place.
Headed to device running 1.6 and above over the next few weeks.
The new version is 2.2.6.
To try to force the update on to your phone, try this:
Settings>Applications>Manage Applications>All>Market and clear data on it.
Check out a bunch of other pics after the break.  
Cheers Adam!