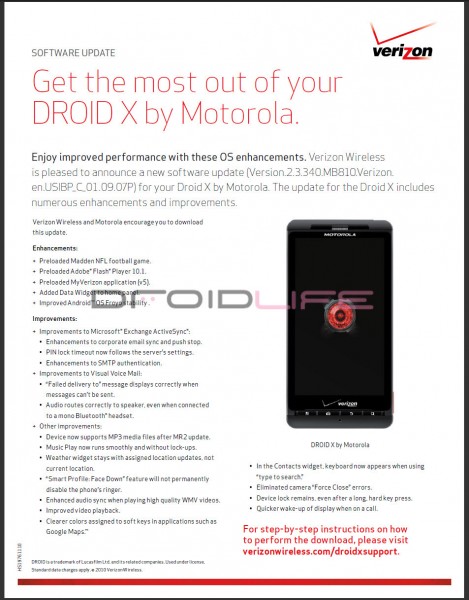 Not to try and steal away the Android 2.3 spotlight today, but the Droid X is about to receive a pretty major update.  Why so major?  It will include Madden 2011!  We've all been waiting impatiently for Madden to drop on Android and it looks like the DX and Verizon might have exclusivity to it.  Crazy right?
Update 11:33AM:  We're hearing now that this might not be the full version of Madden for Android.  Could be bloatware that gives you a couple of minutes of playing time before you have to buy the full version.
The total size of the update is around 79MB which means it's got a lot packed into it.  Business users will find additional Exchange support, Froyo will be more stabile and then a whole bunch of other bugs have been fixed.  (Click on the document above to see all of the updates.)
After updating, your system version will be 2.3.340 which is NOT Gingerbread.  System versions are much different than Android versions.
Update 11:46AM:  I know that many of you have upgraded to the 2.3.20 leak and we will surely have a way for you all to upgrade to this.  We'll have more soon.
We're still waiting to hear when it will be available for download.
More info can be found here.
Cheers beast!