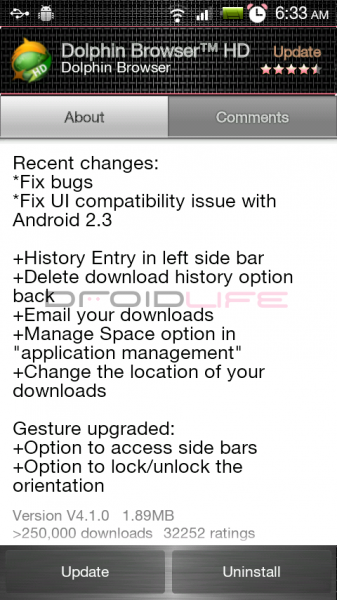 Well there is an interesting screenshot to start a Monday morning with.  One of the top browser applications just received an update and claims to have been needed in order to support Gingerbread aka Android 2.3.  Apparently the folks behind Dolphin Browser have had a chance to work a little with the newest version of Android and noticed that their app needed some UI tweaking in order to play nicely.
There were initial rumors of an expected user interface (UI) overhaul with the release of Gingerbread, but all of the current screenshots floating around in the wild don't seem to show much.  Or maybe we've just been teased?  And if app makers like these are getting their hands on 2.3, is it time for Google to release it already?
Anyone have a guess as to what UI issues they ran into?
Cheers Seth and godfrey!