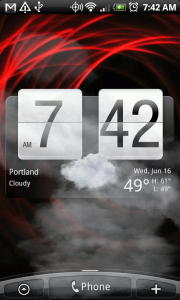 TechCrunch is reporting that a major UI(user interface) overhaul is in store for the next Android release, rumored to be titled Gingerbread.  The overall goal is to remove the desire from manufacturers to want to put their own skin over the standard Google Experience and to come closer to the polished feel of the enemy's iOS.  When we talk about "skins" we're referring to HTC's SenseUI and Motorola's Motoblur which over time have received feedback from all over the map.  Some love them, some really hate them.  Google hopes to make them "pointless."
This news shouldn't come as a complete surprise either after seeing Google's signing of Palm's Web OS designer, Matias Duarte.
Thoughts on some major user experience changes?  Is standard Android too plain?  Do we need more flash?
Source: TechCrunch