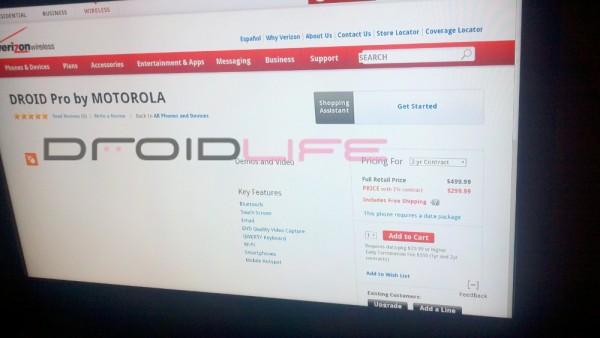 Anyone willing to pay $299 for the Droid Pro on November 11th?  A test site is now live for the next Droid family member and that's exactly the price we're seeing.  Will it stick?  We're hoping that it won't and is likely just a default price during an initial setup of a device's page and that a $100 instant rebate will come when it goes live.  Or is this the new pricing model for the set of new global roaming Android devices from Verizon like the Droid 2 Global?  Interesting stuff, that's for sure.  
And one more shot from my phone…
Update:  An iPad test page is also live showing a $699 price which is correct.  Looks like $299 might be correct after all, but they could still slap on a rebate…
Thoughts everyone?
Cheers wade_county!