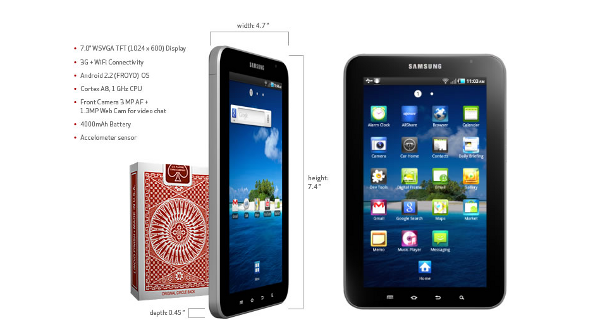 It looks like November 11th might be even bigger than we had already imagined.  Verizon announced this morning that the Samsung Galaxy Tab will hit stores for $599.99 WITHOUT any sort of contract.  So what does that mean?  Users can add an optional plan beginning at $20 a month for 1 GB of data, but again, this is NOT required.  And yes, this is a wi-fi and 3G model.  Look out i*ad?  So much for pricing being an issue eh, Steve?
Update:  It looks like the Verizon version will not have that polished white backing and will be almost all black instead.  Not sure I'm a fan of that, but you can see for yourself after the break.
Update 2:  While my initial thoughts weren't all that negative when seeing the price, there seems to be quite the opposite feeling coming from most readers.  Poll coming!
Verizon Wireless Puts Samsung Galaxy Tab™ In Stores In November

10/20/2010

BASKING RIDGE, NJ, and DALLAS, TX — Verizon Wireless and Samsung Telecommunications America (Samsung Mobile) today announced the highly anticipated Samsung Galaxy Tab™ will be available Nov. 11 for $599.99. Running on Android™ 2.2, the Samsung Galaxy Tab features a brilliant 7-inch touch screen; robust HTML Web browsing experience with full support for Adobe® Flash® 10.1 for video and mobile gaming; and a 1GHz Cortex A8 Hummingbird Application processor.

"This is an incredible time in mobile technology, and as a company we're excited to add the Samsung Galaxy Tab to our portfolio," said Marni Walden, vice president and chief marketing officer for Verizon Wireless. "The Samsung Galaxy Tab brings together the reliability of Verizon Wireless' 3G network and the power of Android 2.2 to deliver on our promise of providing consumers and business customers with a host of options to help manage their lives."

Popular mobile applications, including V CAST Music and V CAST Song ID, VZ Navigator®, Slacker Radio, Kindle for Android, BLOCKBUSTER On Demand® presented by V CAST Video, and the exclusive golf game, "Let's Golf," will be available on the Samsung Galaxy Tab. In addition to text, picture and video messaging, the Samsung Galaxy Tab will also feature V CAST Apps, Verizon Wireless' mobile storefront offering hundreds of applications for businesses and consumers at launch.

Verizon Wireless customers can add a monthly access plan beginning at $20 a month for 1 GB on their Samsung Galaxy Tab. For additional features and specifications on the Samsung Galaxy Tab, visit www.verizonwireless.com/galaxytab.
Anyone interested now?