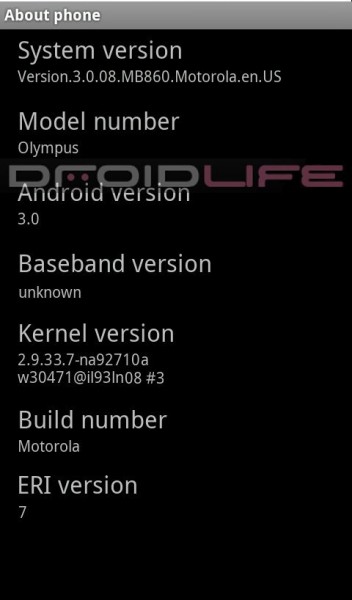 Our friends at "Motorola" just sent over this interesting screenshot, which appears to be straight from the new Motorola Olympus that we've been talking non-stop about over the last few days.  While we're running on this hunch that the Olympus and Everest are both tablets, our tipster left out any real specifics.  And with that said, this is a shot of an "About" screen which we all know can be doctored fairly easily.  You'll notice that the notification bar is missing and that the resolution on the image doesn't necessarily match any of the devices we have, but that could mean a variety of things.  Oh and I blocked out the PRL version which is why you see a giant black space at the bottom.
Is this a 7-inch tablet with weird resolution?  Will we no longer have a notification bar in Gingerbread?  Is this fake?  We'll leave it up to you to decide.
Update:  As Fira pointed out in the comments, one of Google's Android peeps (Romain Guy) has posted this screenshot which he calls a "stock" and "unmodified" version of Android running on his device without a notification bar.  Of course he doesn't mention which version that is and we're still skeptical…
Digging for more…
-K and Tato
______________________
Some of our best videos.