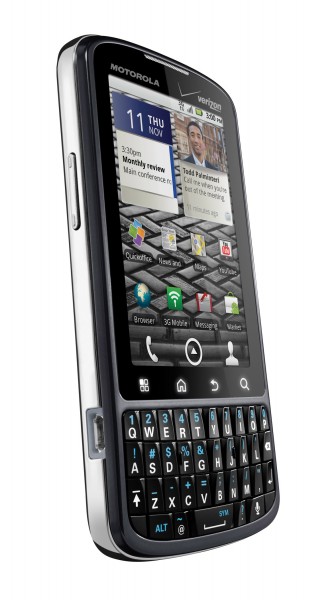 An hour or so ago, news started leaking out from Verizon that a Blackberry-styled Android option would be announced shortly.  That device has now been made official at CTIA.  Say hello to the Droid Pro everyone, the candy bar-styled, global roaming Droid family member which should help propel Android into an even bigger market, that of the world business traveler.
A few specs that stand out are:
3.1″ display
Android 2.2
Flash 10.1
1.0GHz processor
5MP camera
Portrait keyboard
Global-ready and can work in 220 countries
2GB built in memory, 2GB pre-installed SD card
No pricing has been announced, but should be available within the next few weeks.
Full press release and gallery after the break.  
DROID Does Business: DROID PRO By Motorola Designed For Work And Play On The Nation's Largest And Most Reliable 3G Network
Global Android Smartphone from Verizon Wireless Combines Rich Business and Personal Mobile Experiences

SAN FRANCISCO, CA — From CTIA Enterprise & Applications™ 2010, Verizon Wireless, the company with the nation's largest and most reliable wireless 3G network, and Motorola, Inc. (NYSE: MOT) today unveiled DROID PRO, a new, powerful, stronger and faster solution designed to meet both business and personal needs. The first Android™-based smartphone optimized for business use, DROID PRO is also a global-ready Android smartphone from Verizon Wireless, allowing customers to enjoy wireless voice service in more than 220 countries and data coverage in more than 200 countries.

DROID PRO meets employers' and employees' needs by addressing the productivity tools businesses require, including corporate connectivity and security; full push corporate e-mail with corporate level security; unified calendar with additional work features; pre-loaded Quickoffice Mobile Suite, a powerful 1 GHz processor; 4 GB of memory (2 GB internal; and 2 GB removable) and a QWERTY keyboard designed for speed and convenience.

"DROID PRO combines the feature-packed, high-level user experience that customers look for in an Android smartphone plus the security that enterprises require, all with the reliability of Verizon Wireless' 3G network," said Mike Lanman, president – Enterprise and Government Markets for Verizon Wireless. "DROID PRO builds on our commitment to deliver the best Android experience to the marketplace as well as to our enterprise customers."

"The DROID PRO is an advanced business-ready solution that provides users with the full smartphone experience, redefined by delivering the power of a DROID," said Sanjay Jha, chief executive officer of Motorola Mobility. "The DROID PRO consolidates users' work and personal needs. This is just another reason the DROID PRO is setting a new standard for enterprise, allowing users to enjoy all the benefits of a smartphone with full push delivery of corporate e-mail and corporate level security."

Key features and specifications:

Support for both Exchange e-mail and Gmail™ for business
Corporate directory look-up, unified calendar for Enterprise and sync with Google Calendar™
PC-like browsing with Adobe® Flash® Player 10.1 on a full, multi-touch, 3.1-inch brilliant display built on Android 2.2
View, edit and share documents, including Microsoft Excel® spreadsheets, PowerPoint® presentations and Word® documents
Built-in security features, including AuthenTec IPSec multi-headed VPN integration, remote wipe of device and SD card, and complex password support. Device and SD card encryption will be available in early 2011
3G Mobile HotSpot capabilities – Allows customers to connect up to five other Wi-Fi®-enabled devices and laptops
Live widgets that stream e-mail messages to the home screen; customers can filter the widgets to separate work and home e-mail
5-megapixel camera with auto focus and dual LED flash as well as DVD-quality video
3G diversity antennae provides customers with enhanced data speeds and range
Wi-Fi®-enabled DNLA® connectivity
Android Market™ – Provides customers with access to more than 80,000 applications
My Verizon and Backup Assistant(SM) support – Allows customers to manage their wireless accounts or their contacts from their phones

Pricing and availability:

DROID PRO will be available at www.verizonwireless.com and in Verizon Wireless Communications Stores in the coming weeks. Pricing will be announced closer to launch.
For more information about Verizon Wireless products and services, visit a Verizon Wireless Communications Store, call 1-800-2 JOIN IN or go to www.verizonwireless.com.

About Verizon Wireless
Verizon Wireless operates the nation's most reliable and largest wireless voice and 3G data network, serving more than 92 million customers. Headquartered in Basking Ridge, N.J., with 79,000 employees nationwide, Verizon Wireless is a joint venture of Verizon Communications (NYSE, NASDAQ: VZ) and Vodafone (LSE, NASDAQ: VOD). For more information, visit www.verizonwireless.com. To preview and request broadcast-quality video footage and high-resolution stills of Verizon Wireless operations, log on to the Verizon Wireless Multimedia Library at www.verizonwireless.com/multimedia.

About Motorola
Motorola is known around the world for innovation in communications and is focused on advancing the way the world connects. From broadband communications infrastructure, enterprise mobility and public safety solutions to high-definition video and mobile devices, Motorola is leading the next wave of innovations that enable people, enterprises and governments to be more connected and more mobile. Motorola (NYSE: MOT) had sales of US $22 billion in 2009. For more information, please visit www.motorola.com.

MOTOROLA, the Stylized M Logo and MOTOBLUR are trademarks or registered trademarks of Motorola Trademark Holdings, LLC. Used under license. The Bluetooth trademarks are owned by their proprietor and used under license. All other product and service names are the property of their respective owners. © 2010 Motorola Mobility, Inc. All rights reserved.

Android, Gmail, Google Calendar, and Android Market are trademarks of Google Inc.
Thoughts everyone?