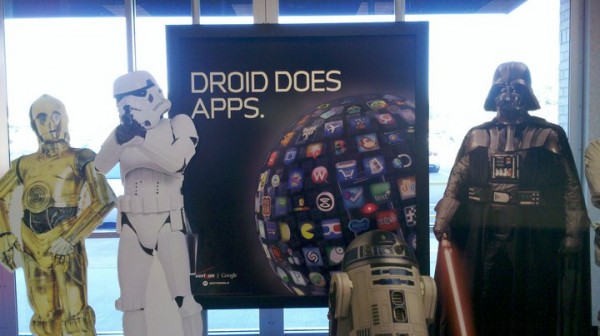 Verizon stores are starting to prepare for the September 30th launch of the special edition R2-D2 Droid 2, some with full on midnight costume parties.  The device will go on sale 9/30 (pricing to be determined), but around 100 stores have been given the opportunity to open late on the 29th to bring in crowds and create buzz around this one of a kind device.  As you can see from the photo above, we're starting to see stores in early preparation.
Supply will be limited and we heard a couple of months ago that only 50,000 special edition models were made, so these could fly off of store shelves pretty quickly, especially knowing how the Star Wars crowd loves collectibles.  Oh and on that front, apparently it is possible to purchase the device and activate it without removing it from the box or packaging.  So for those of you looking to stash it away unopened hoping it'll be worth gajillions in 20 years, you are in luck!
And anyone wanting to buy 15 to sell on eBay, you are out of luck. Verizon is going to do their best to limit each customer to two phones.
We're digging to find a listing of stores opening at midnight.
Don't forget that you can still try to win one of the R2-D2 hunt phones.  Our forums are on the hunt!
Source:  Verizon Cordoza (pics), Miami Herald