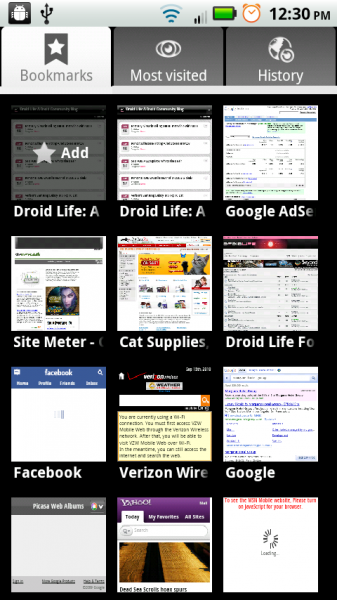 The Droid X is not only preloaded with a bunch of non-removable apps that you may not be all that fond of, but it also comes stocked with a few additional bookmarks which you have been blocked from being able to remove.  Unfortunate right?  Don't worry, we can fix it with a simple file edit.  Get the instructions after the break!
Instructions:
*Warning* – Rooting your phone voids the warranty of your device.  It can also do permanent damage to your phone so we are not recommending that you do any of this.  If you do attempt this, you do so at your own risk.
1.  You need to be rooted.  (Droid X rooting instructions)
2.  You need to have Root Explorer.
3.  Open Root Explorer and navigate to /system/etc/motorola/com.android.browser
4.  Tap the "Mount R/W" button in the top right corner changing it to "Mount R/O."
5.  Long press on defaults.xml and choose "Open as Text Editor."
6.  Find "preloaded_bookmark" and change the value to "0".
7.  Hit the back button and say "yes" when prompted to save changes.
8.  Tap the "Mount R/O" button again to return it to "Mount R/W."
9.  Back out of Root Explorer and open your browser.
10.  Open your bookmarks screen and you should now have zero bloatware bookmarks.
All credit to WJD Designs for the idea!
And if you don't have Root Explorer or don't want to pay for it, WJD has put together a new defaults.xml that you can flash in recovery for free.
Enjoy!