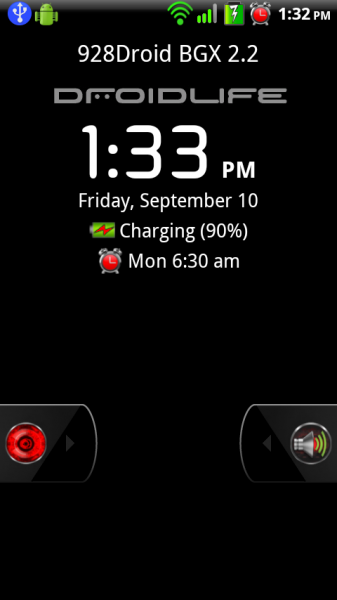 It only seemed right to start featuring some custom themes to other devices now that the entire Droid family is rooted and has a huge community of developer and themers behind it.  And once the DX, DI and D2 get enough, we'll probably pick a day for each device to feature a new theme to keep you up on your custom look and freshness.  Friday's is already taken by the D1, but we've still got 4 other days to play with right?
We are pleased to bring you the first of many Droid  X themes today, and damn is this one pretty.  Say hello to 928Droid Black Glass, which many consider to be the first full theme for the DX.  They've included themed widgets, framework, apps and so much more.  This thing really is something to marvel at.  Let's get to it!
*DROID X ONLY.
Download:  928DroidBlackGlassX-DroidX22DeOdex-r2b-THEME.zip
Instructions:
1.  You need to be rooted and running a 2.2 deodexed ROM.  (Ex:  FlyX)
*DO NOT ATTEMPT UNLESS YOUR DROID X HAS BEEN DEODEXED.
2.  Download the file from above and drop on your SD card.
3.  Open ROM Manager and select "Install ROM from SD Card."
4.  Locate the theme file that you just downloaded and tap on it.
5.  When prompted, make sure to check the box to create a backup.
6.  Skip "wipe data and cache."
7.  Your phone will reboot and apply the theme.
8.  The first boot could take a REALLY long time.  Be patient.
9.  Once it boots, you'll be running 928Droid for the Droid X!  Enjoy!
Hit up our IRC support channel to talk about issues that you've run into.
Special "Cheers!" to MrPicolas aka Dr. Root for this one!
Visit the 928Droid site now to donate!