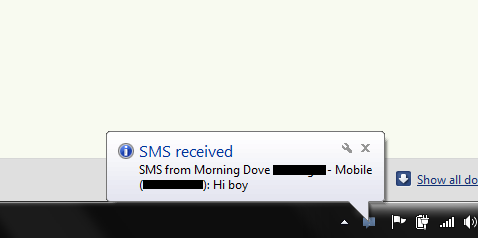 Wouldn't it be handy to have an app that allows your phone to send notifications of incoming calls, texts, voicemails or even low battery warnings to your desktop?  Then check out a new player in the smartphone-to-computer game called Android (Remote) Notifier.
Remote Notifier allows your device, when connected over wi-fi or Bluetooth, to send a variety of notifications to your desktop which as your brain might have just realized, is super handy especially if you were to be, let's say, sitting in a conference room with your phone on silent?  Think about it.  Win.
Download the phone application here.
Download the desktop application here.
You will need both in order for this to work.  Simply install them, connect to a wi-fi network and send over a test notifcation.  It really is as simple as that.
*I should note that it does not appear to be working with Google Voice texts, but does work with GV phone calls.
Via:  Lifehacker
Cheers Jeremy!