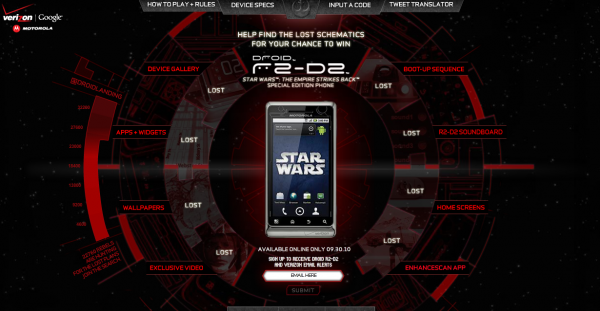 A new tweet was just launched that gives another clue to the R2-D2 Droid 2 lost plans hunt.  Here it is…
@DroidLanding – http://bit.ly/b7zx9i #AttackPatternAlpha
Yesterday's tweet here.
Update 1:  If you drop the full URL from the tweet link into the Tweet Translator, you get this message…
Oh hello there. I am so glad to… Oh really do kindly excuse me. Artoo why are you burbling about motorola incorporated.  You were constructed by industrial Automaton..obviously an inferior enterprise since you have clearly picked up a slight flutter. Do excuse us. Artoo, come along. I'll take you down to maintenance.
Update 2:  Searching the Moto site for "Automaton" you get this memo which has obviously been created just for this contest.  Sneaky Moto.
We're on the hunt for meaning over at the forums!
Cheers victor!