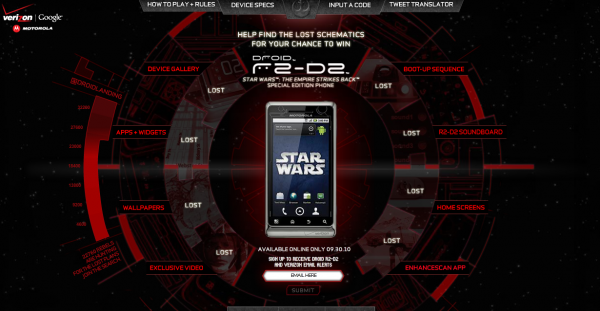 The @DroidLanding Twitter account just started up what appears to be a new contest.  At the same time, the new R2-D2 Droid 2 page went live and includes all kinds of fun facts, tricks, secrets, and info about this mysterious Star Wars related device.
Visit the R2-D2 site here.
Update 1:  Apparently the new contest involves secret codes which will unlock the location of the secret plans of the lost R2-D2 unit.  Should you find the plans, you will receive one of the special edition D2's for free.  Also along the way, these unlock codes will give you access to all of the features on the new R2-D2 site like exclusive video, wallpapers, a device gallery, etc.
Update 2:  Here is the first tweet.  Someone figure out the code!
@DroidLanding – http://bit.ly/bRccc9 #AttackPatternAlpha
Update 3:  If you plugin the URL that the above tweet redirects you to into the C3PO Tweet Translator you get an answer and a redirect to these photos.  Here is the message…
R2D2 IS REPEATING INFORMATION FROM THE BATTLE OF YAVIN…UGH. SOMETIHNG ABOUT UNITING THE CALL SIGNS TO FORM A CIPHER. COULD HE POSSIBLY MEAN THESE?  http://bit.ly/a0Ytzp
Let's do this people!  Put our Droid Life brains together and find us the lost plans!
Dedicated thread started over at the forums!  Check it here.