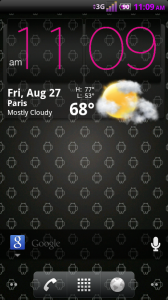 Talk about a busy day. We officially launched our IRC Channel which completely blew up and MrPicolas (Dr. Root) is still recovering in the Trauma Center at the local ER. We hope for a speedy recovery!
Today, I present Purple Passion by 'roberj13'. I enjoy LOTS of his work! This theme has been ported to Sapphire 1.0.0 and runs incredibly well! Especially since the Sapphire team has built such a beautiful ROM.
Continue on to see Gallery and instructions!
Instructions:
Download and flash Sapphire 1.0.0 stock theme!
1. Download the Purple Passion theme: Link
2. Place file on root of your SD Card.
3. Flash file through ROM Manager – "Install zip from SD"
And that's it! Sit back and watch magic happen!
Enjoy everyone! <3
-Tim-o-tato
See all of the previous version of Custom Theme Friday here.
See all of RoberJ13's work HERE: Droid Forums Profile