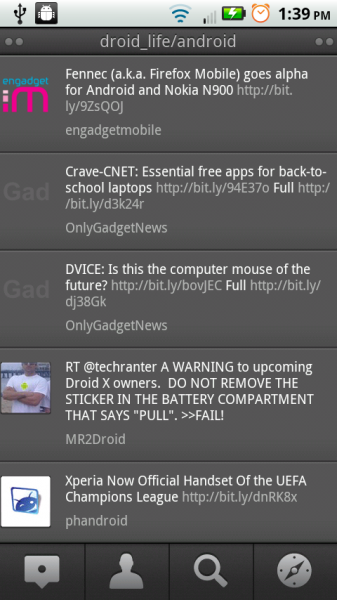 TweetDeck appears to be serious about making a top notch Android Twitter client and that should make you smile.  We all know how amazing their desktop client is, and after 5 or so beta updates in about two weeks time, you can tell that this is going to be a guaranteed winner as well.  A new version has just been released which can be downloaded directly to your phone now.
Download:  TweetDeck-0.9.5.apk
Changelog:
Full compatibility with all phones running 1.6 and above
Added option to remove Facebook, Buzz, or Foursquare accounts
Added option to delete tweets sent by you
Improved handling and refined UI for Facebook and Google Buzz attachments
Fixed bug preventing successful updates containing multiple photos
Added multi-Twitter account compose
New "More" button on all Twitter user profiles and updates allowing
Reply All
Sharing
Translation
Copy update text
Copy update URL
Tapping the header when at the top of the column will refresh that column
And don't forget to follow us on Twitter!
Source:  TweetDeck