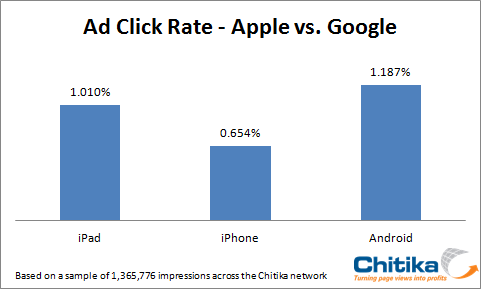 When I first read this article, I gave off a little fist pump followed by a "Yeah! +1 Android!" and then 5 minutes later started to question myself on why I was so excited.  Chitika, a big dog in the online ad world, just reported that Android users are "more valuable" that i*hone users in the sense that they click on ads 81% more of the time…
In the Android vs. iPhone war for mobile supremacy, which operating system should advertisers look to target?  Online ad network Chitika looked at ad click rates across its network for the two devices and came to the conclusion that Android users are by far more valuable individually than iPhone users – people on the Android OS clicked on ads 81% more often than people on the iPhone.
So what exactly does that mean?  Are Android users less intelligent than i*hone users which would lead to them being suckered into tapping on mobile ads?  Or are Android users simply too new to the smartphone world that they are unfamiliar with ads leading them to random tappings?   What's the deal?
All I know, is that activations of Android devices are increasing by the minute and we'll leave that as the reason why our family is making advertisers so rich.
Source:  Chitika
Via:  TalkAndroid