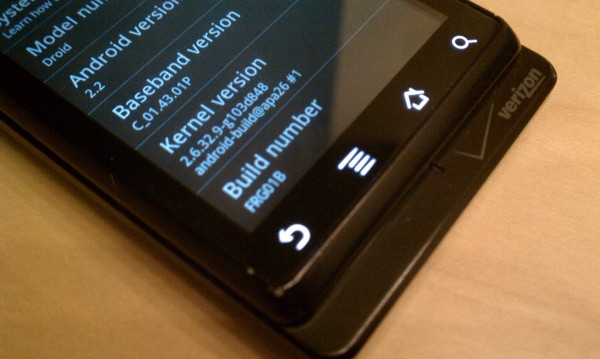 With the rollout of Android 2.2 for the Droid in full swing, we've seen a ton of questions pop up in both our inboxes and in the comments and thought it was time to put out some answers.  This likely won't cover them all, but these are the ones we see just a tad more than the rest…
Q:  Will I still receive the OTA update if I manually updated?
A:  Nope.  You already have the official update if you manually updated, so there won't be a notification any time on your phone to update.
Q:  What happened to FRG22?  Will I still receive it?
A:  We have reason to believe that it will come out over the next few weeks once FRG01B has finished.  FRG01B finishes on the 18th, so you can expect FRG22 some time after.
Q:  How can I downgrade back to 2.1 from 2.2?
A:  You can't.  Well there are ways, but your phone is only going to continue to prompt you to update.  When Verizon and Motorola push an update to your phone, you just have to accept it.
Q:  Why isn't Flash on my phone?
A:  Because it is a separate application that needs to be installed.  It will be in the market on August 18th (or now maybe?) to download, but if you can't wait that long, download the beta here.
Q:  I'm rooted, running a custom ROM, and keep getting a notification to update.  Should I?
A:  If you are running a custom ROM, that likely means you also have a custom recovery image.  If this is the case, then you should accept the update and your custom recovery will block it.  This will also stop the notifications from continuing to appear.
Q:  Certain apps are now crashing after the update.  What can I do?
A:  Some apps are probably not ready for 2.2 and may crash until the developer makes it compatible.  One thing you can do though, is uninstall the app with issues and reinstall it.  For whatever reason, the update isn't playing nice with everyone, but this can help.
Q:  Some of my paid apps are not showing after updating.  Why?
A:  We have to assume that these apps are not yet compatible with Android 2.2.  Just be patient, they should show up eventually when they get updated.  For now, if you could list any in the comments that seem to be missing, taht would greatly help us all.
Anything else you need answered?  Let the community attack it in the comments!