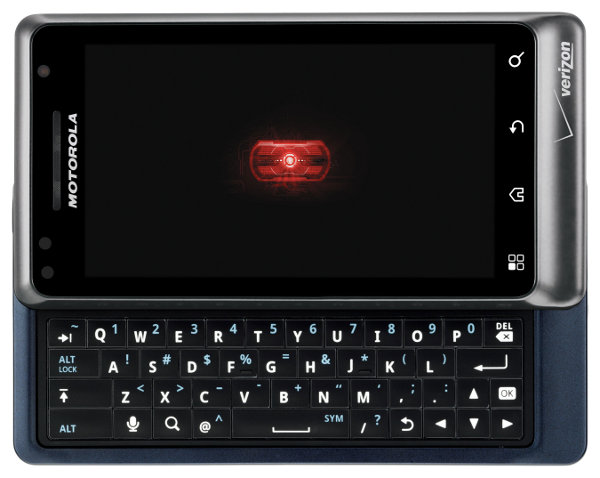 And finally, we have an announcement from Verizon.  Just 1 day before the pre-sale starts and only 2 before it hits stores, the Droid 2 is official…
Verizon Wireless, the company with the nation's largest and most reliable wireless 3G network, and Motorola, Inc. (NYSE: MOT), a pioneer in the mobile industry, today announced that DROID™ 2 by Motorola will be available for pre-sale on August 11. Hitting all the right keys, DROID 2 is a feature-packed device that helps manage work and social life with an enhanced QWERTY keyboard, ultra high-speed Web browsing, 3G Mobile HotSpot capabilities, full push corporate e-mail, intuitive social messaging and Adobe® Flash® Player 10.1 for access to the full web – all built on Android 2.2.
Standard pricing as we had previously mentioned, with the device hitting stores on August 12th…
Pricing and Availability
DROID 2 by Motorola will be available at www.verizonwireless.com on August 11, and it will be in Verizon Wireless Communications Stores beginning August 12 for $199.99 after a $100 mail-in rebate with a new two-year customer agreement. Customers will receive the rebate in the form of a debit card; upon receipt, customers may use the card as cash anywhere debit cards are accepted. In addition to subscribing to a Nationwide Talk plan or a Nationwide Talk & Text plan, customers will also need to subscribe to an Email and Web for Smartphone plan. Nationwide Talk plans begin at $39.99 monthly access. Email and Web for Smartphone plans start at $29.99 for unlimited monthly access.
But what about the special edition R2-D2 unit?  Oh it's coming too…
R2-D2 DROID 2
In honor of the iconic Astromech Droid from the Star Wars™ Saga, Verizon Wireless will offer a limited-edition R2-D2 version of the DROID 2, available only online in September. The special version of the phone will feature exclusive Star Wars content and external hardware designed to look like the trusty Droid from the film saga. Visitors to the upcoming Star Wars Celebration V in Orlando, Fla., can see a preview of the limited edition phone and sign up to receive alerts when the phone is ready for sale.
Full press release available here.
Anyone headed to the Star Wars Celebration in Orlando?  Would love to have a correspondent to check out the R2-D2 model first!  Hit us up via contact form!