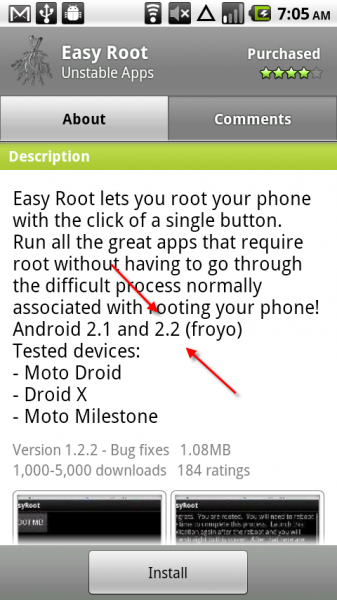 Remember Easy Root?  You know, the "1-touch" rooting machine that rooted many of your Droid and Droid X devices just before the FRG01B manual update was released?  Well guess what?  The developers behind it have figured out a way to root that same official stock FRG01B that many you seem to want to revert away from for rooting purposes.  And now you can do just that with again, a simple click.
For those of you new to the rooting game, we ran a poll asking users why they would root their phone a while back and should provide you with any answer you might need to take the plunge.  View the poll here.
*Warning* – Just a reminder that rooting VOIDS your warranty and could potentially do permanent damage to your device.  This is not a recommended practice and you do so at your own risk.
Update:  Easy Root has been "suspended" from the market.  We're awaiting details as to why.
Let us know how it goes!
Cheers to everyone who sent this in!